Get your generators ready NY, Jose might be heading up here to blow away your over valued hovels. Recent models indicate Jose is making a comeback near the Bahamas and is expected to regain 'Cane status today, then jog on towards the northeast in an attempt to destroy it.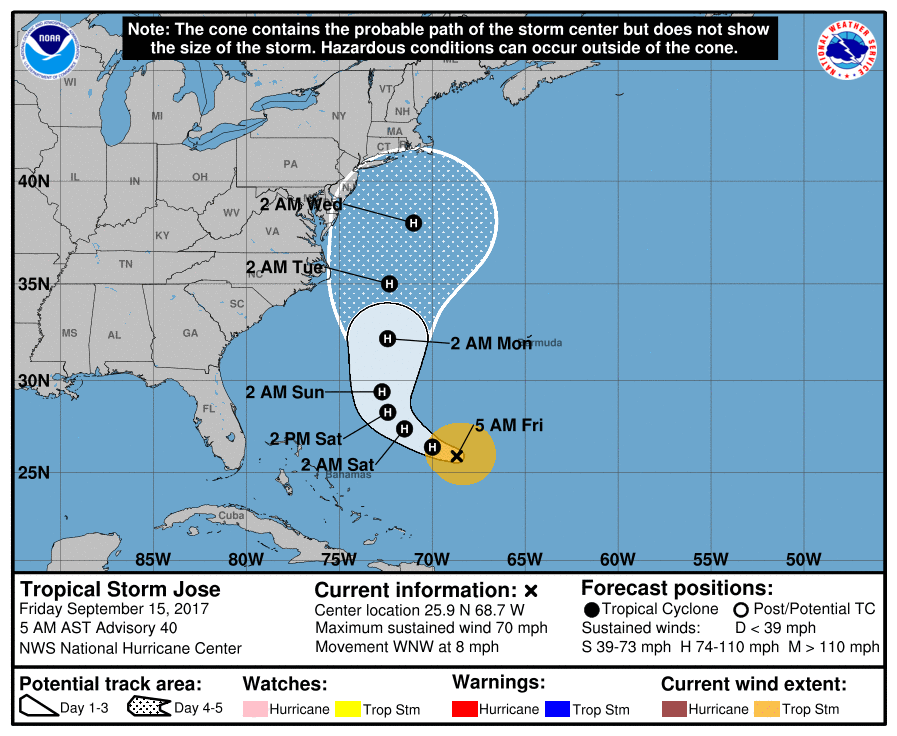 From Dr. Masters
Jose is now completing its expected loop between the Caribbean and Bermuda, and the track forecast has become more straightforward. Our top track models—the European, GFS, and UKMET models—agree that Jose will continue west-northwest until about Saturday, then head northward toward a upper-level trough that will be sweeping through eastern Canada. By midweek, this northward movement is expected to segue into a more northeasterly track.

The main forecast challenge is how close Jose will get to the U.S. and Canadian coast. The 00Z Thursday runs of the three top track models all place Jose within several hundred miles of North Carolina's Outer Banks by next Tuesday. Later in the week, Jose could make an even closer pass by Cape Cod and the Canadian Maritimes. At this point we can't rule out the possibility that Jose will make landfall somewhere along the east coast of the U.S. or Canada. Of the 50 members of the 00Z Thursday ensemble run of the European model, a substantial minority bring Jose inland across the eastern U.S. (see Figure 3). However, only about 20% of the GFS ensemble members produce an eastern U.S. landfall (see Figure 2). The model guidance trended slightly westward overnight, so we'll need to keep a close eye on any further trends in model guidance. NHC's 5-day forecast on Thursday morning placed Jose about 250 miles east of North Carolina on Monday, and the "cone of uncertainty" included the Outer Banks.
…click on the above link to read the rest of the article…