Home » Posts tagged 'wolfstreet'
Tag Archives:
wolfstreet
One more manifestation of the inflation pressures working through various levels of the economy despite suboptimal demand.
January, in terms of freight volume, is usually a slow month of the year, after the shipping season before the holidays, and freight rates tend to back off.  But not this January.
The amount that shippers, such as retailers and manufacturers, spent in January on shipping goods to their customers soared by 19.5% compared to January last year, the steepest year-over-year increase since 2011, and surpassing the surge in September 2018, according to the Cass Freight Index of Expenditures. This was driven by a mix of increasing freight volume and soaring freight rates. The amount spent on freight was roughly on par with December which had set a huge record: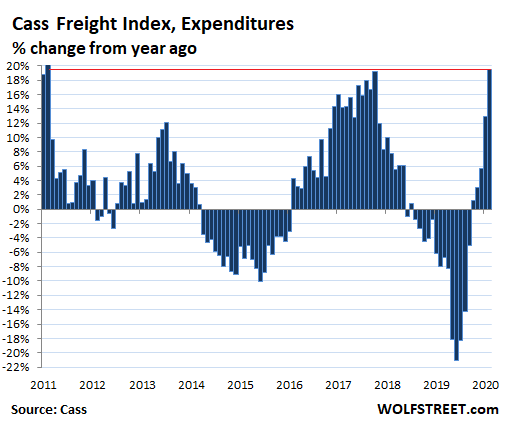 The higher freight rates in January include trucking spot rates and contract rates. According to DAT Freight & Analysis, the average national contract rate for van-type trailers in January jumped by 26% from a year ago to $2.40 a mile.
Spot rates declined over the course of January from high levels in December before picking up again in February. But the average rate in January, at $2.36 was still up 11% from a year earlier.
The freight rates embedded in the Cass Freight Index jumped by 10.1% year-over-year in January, up from an increase of 6.0% in December.
The Cass Freight Index covers all modes of transportation, but truckload represents over half of the dollar amounts, followed by rail, less-than-truckload (LTL), parcel services, etc. It does not cover bulk commodities.
…click on the above link to read the rest of the article…