Billionaires got more billions, bottom half of Americans got peanuts and inflation.
My "Wealth Effect Monitor" uses the data that the Fed releases quarterly about the wealth of households. The Fed, after having released the overall data for the third quarter earlier in December, has now released the detailed data by wealth category for the "1%," the "2% to 9%," the "next 40%" (the top 10% to 50%) and the "bottom 50%."
Wealth here is defined as assets minus debts. The wealth of the 1% ($43.9 trillion, according to the Fed) is owned by 1% of the population. The wealth of the "bottom 50%" (only $3.4 trillion) gets split across half the population. My Wealth Effect Monitor takes this a step further and tracks the wealth of the average household in each category.
The average wealth in the 1% category ticked up by only $121,000 in Q3 from Q2, after skyrocketing over the prior five quarters, to $34,478,000 per household (red line). In the bottom 50% category, the average wealth ticked up by $6,800 $53,600 (green line). And get this: About half of that "wealth" at the bottom 50% is the value of consumer durable goods such as cars, appliances, etc. Even the top 2% to 9% (yellow), have been totally left behind by the explosion of wealth at the 1%: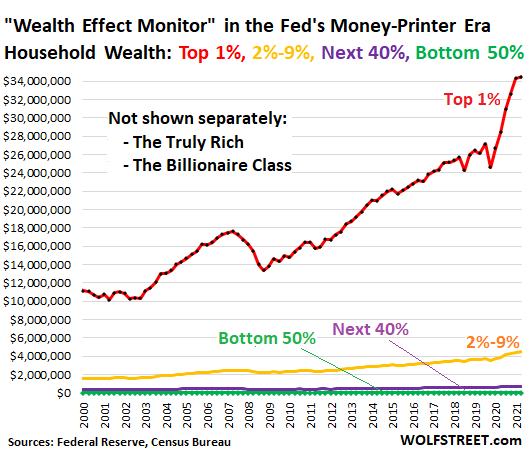 Note the immense increase in the wealth for the 1% households, following the Fed's money-printing scheme and interest rate repression in March 2020.
A household is defined by the Census Bureau as the people living at one address, whether they're a three-generation family or five roommates or a single person. In the third quarter, there were 127.4 million households in the US, per Census estimates.
…click on the above link to read the rest of the article…