Home » Posts tagged 'china'
Tag Archives:
china
The Chinese Credit machine sputtered in July. Growth in Total Aggregate Financing dropped to $144 billion, almost 40% below consensus estimates. This was less than half of June's $320 billion increase and the slowest expansion since February. The sharp slowdown was beyond typical seasonality, with the month's growth in Aggregate Financing 18% below July 2018. Despite July's weak growth, Total Aggregate Financing was still up 10.7% over the past year.
New Bank Loans fell to $150 billion from June's $235 billion, with growth 28% below that from July 2018. At $2.331 TN, New Loans were still up 12.6% over the past year. Consumer Loans dropped to $74 billion, the weakest showing since February. Consumer Loans were nonetheless up 16.5% over the past year, 38% in two, 71% in three and 138% over five years.
Loans to the non-financial corporate sector collapsed in July to $42 billion, about a third June's level. Somewhat offsetting this decline, Corporate bond issuance almost doubled in July to $32 billion.
The ongoing contraction in "shadow" finance accelerated in July, with declines in outstanding Trust Loans, Entrusted Loans, and Banker Acceptances. On a year-over-year basis, Trust Loans were down 4.3%, Entrusted Loans 10.0% and Bankers Acceptances 15.0%.
China's July Credit data were alarming on multiple levels. For starters, the sharp Credit slowdown supports the view that financial conditions tightened meaningfully after the government takeover of Baoshang Bank (and attendant money market instability). It also raises the increasingly pressing question as to the willingness of the banking system to continue to take up the slack in the face of a broadly deteriorating backdrop. And in a new development, analysts have begun contemplating the possibility of waning Credit demand.
The sharp pullback in Consumer Loans raises the specter of an inflection point in household mortgage borrowings. Bubbling apartment markets have supported a resilient consumer sector along with an unrelenting housing construction boom. Government tightening measures may be having some impact. It is possible as well that market sentiment has begun to shift. 
…click on the above link to read the rest of the article…
As we shared yesterday, satellite images confirmed President Trump's warning that Chinese troops were massing on the Hong Kong border.
Now, the AFP has published photos showing more military buildup unfolding in Shenzen.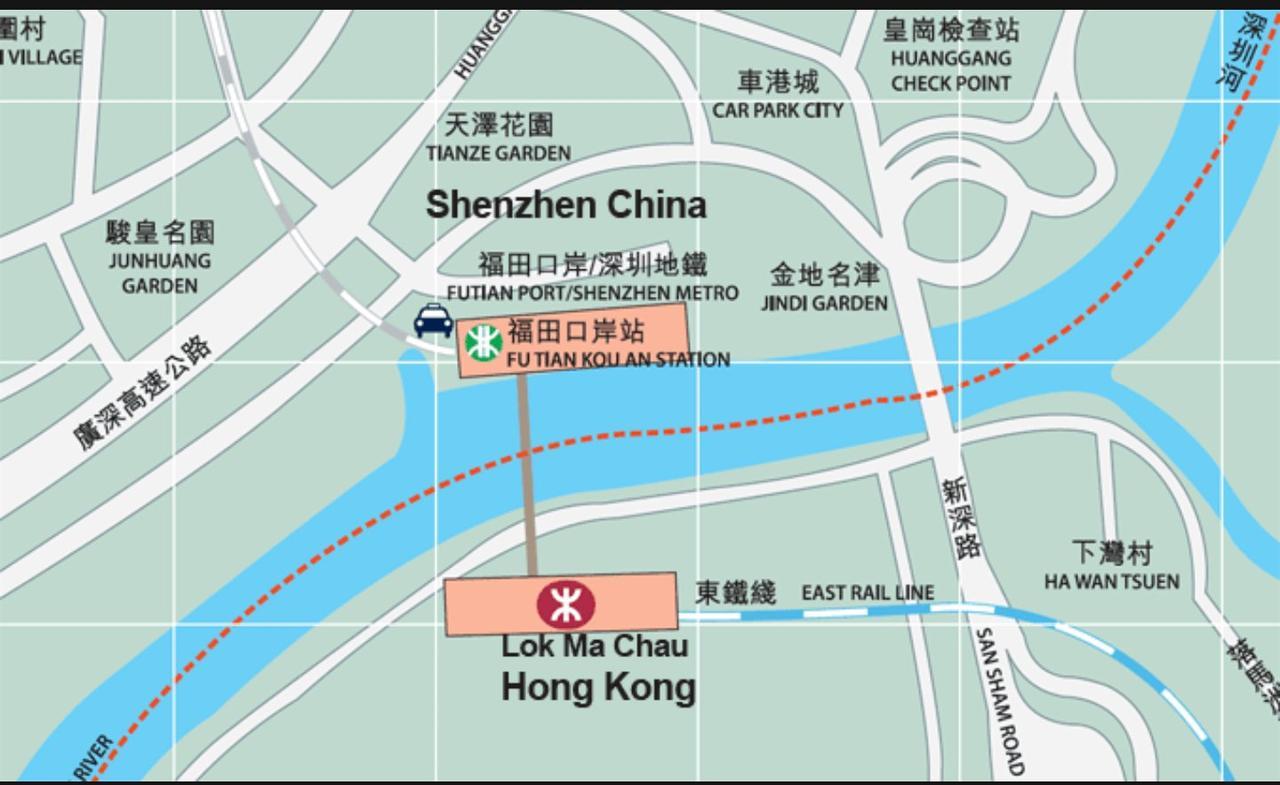 The photos show what Reuters reports are hundreds of members of the People's Armed Police, a pro-regime paramilitary organization, carrying out military exercises in a stadium in Shenzen. They could be preparing to carry out demonstrations of its own in Hong Kong.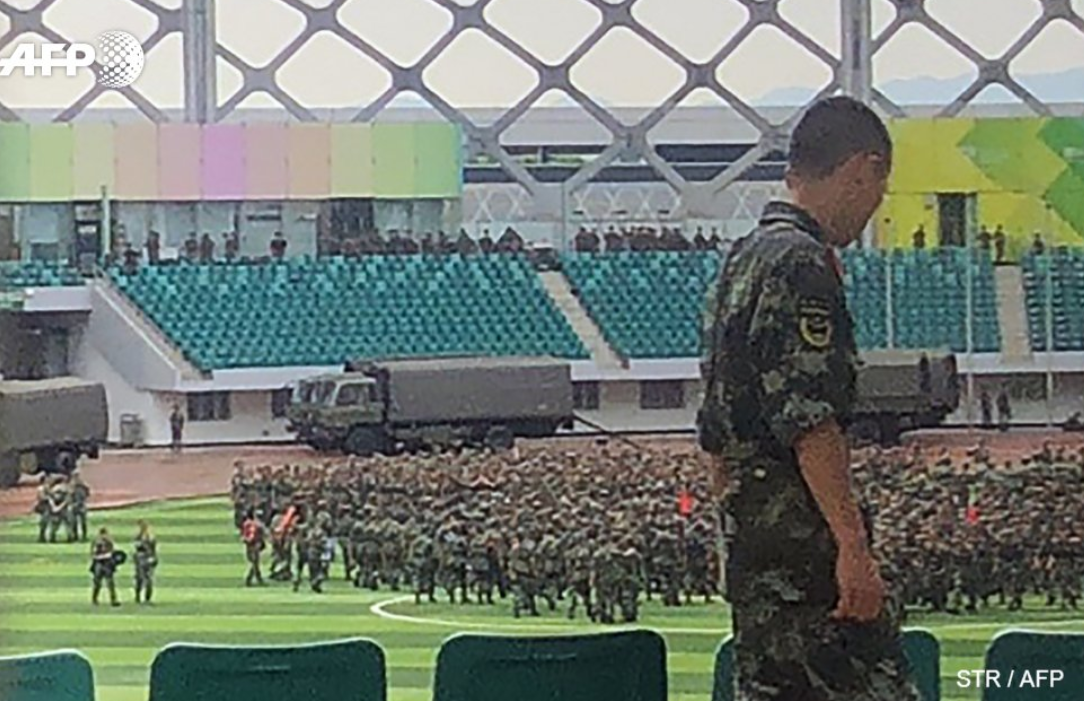 Not to mention the hundreds of carriers and what appear to be tanks driving toward the field.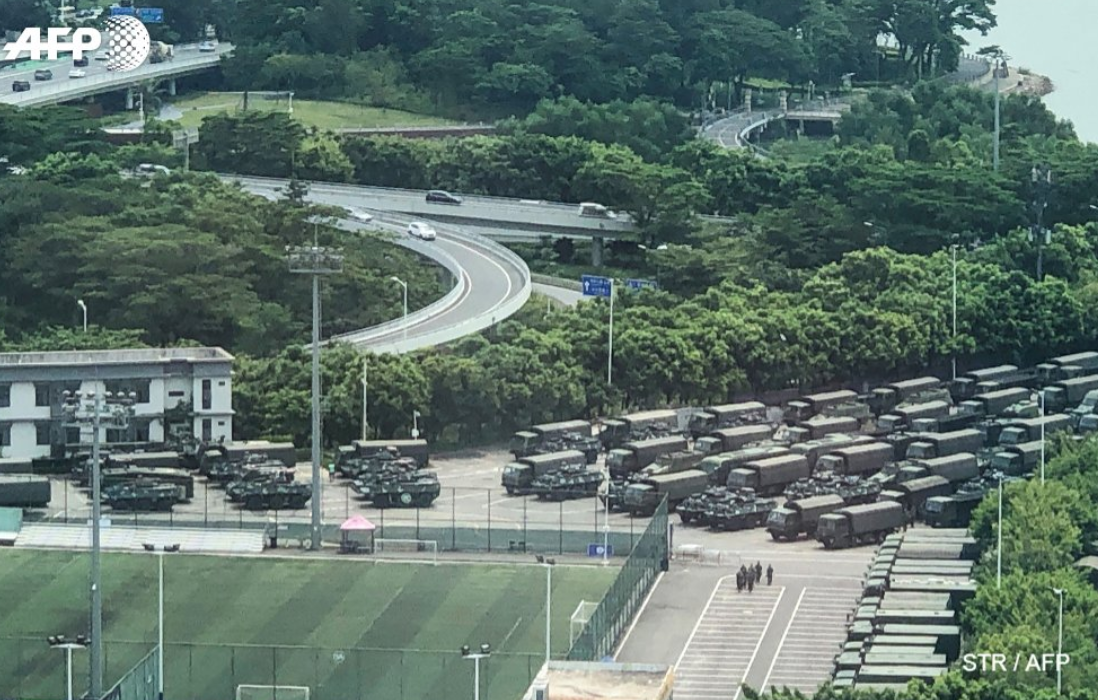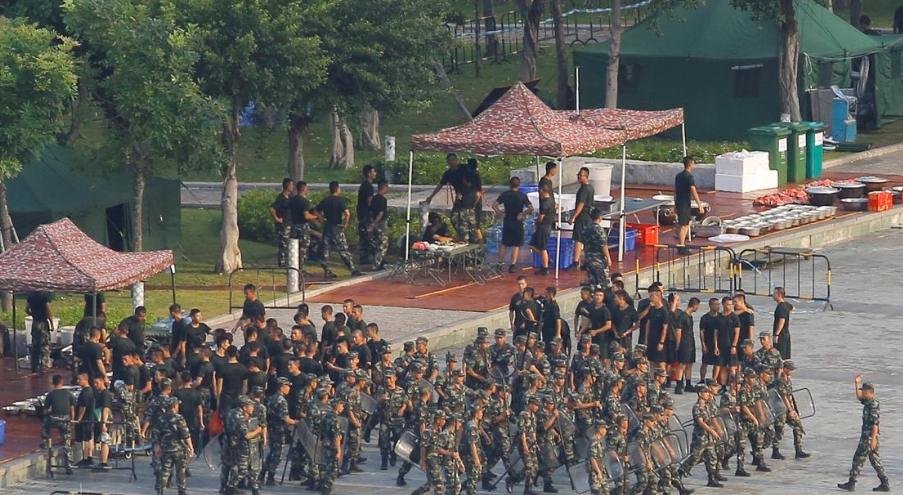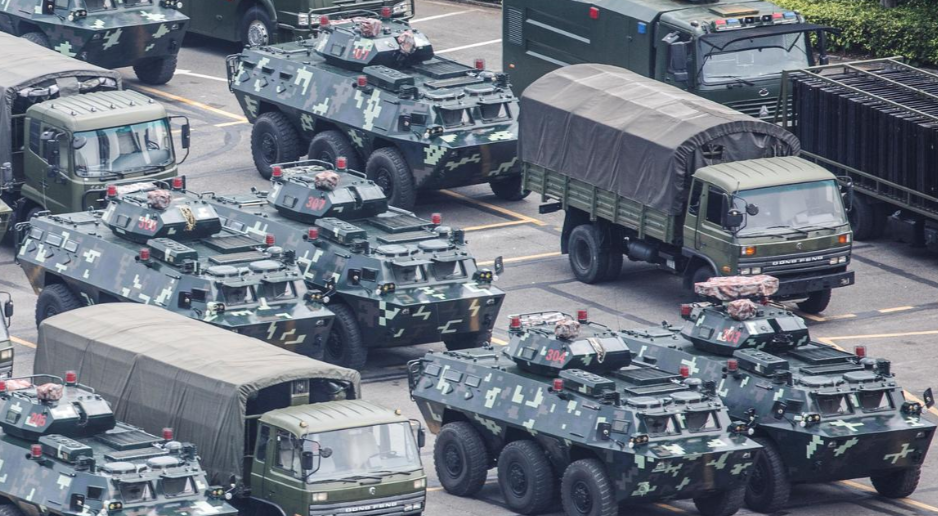 And let's not forget about those satellite images.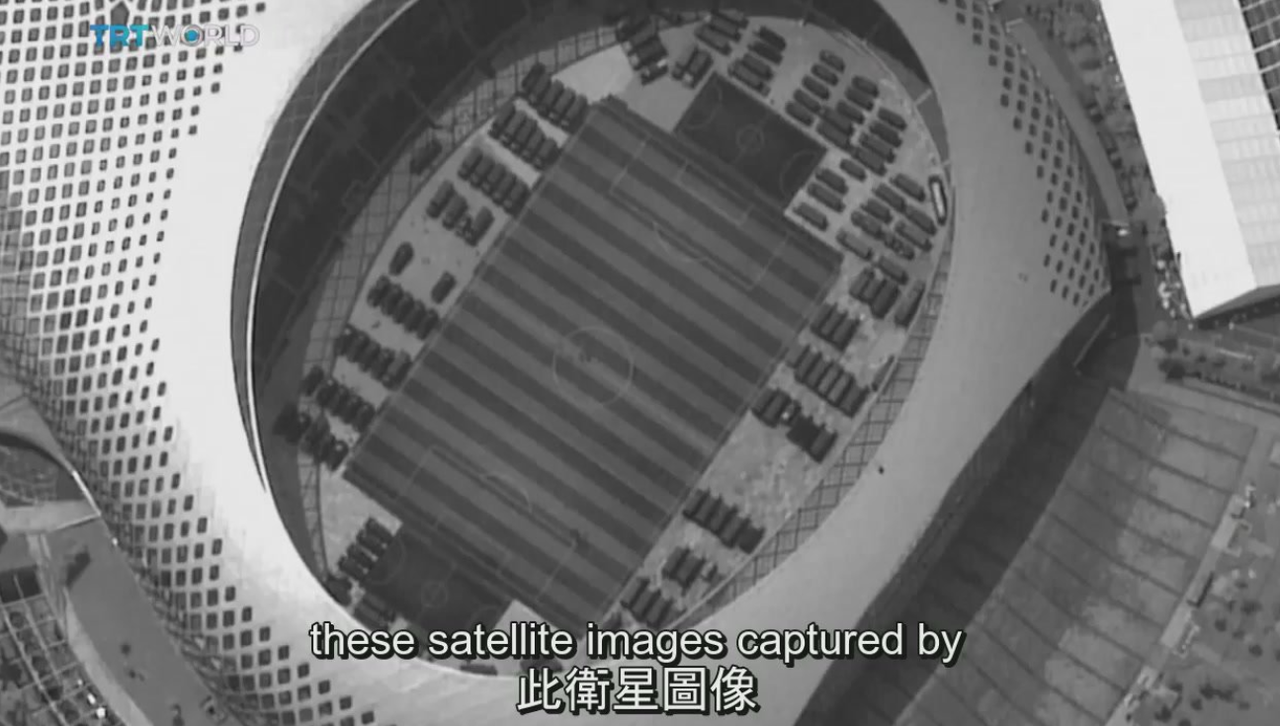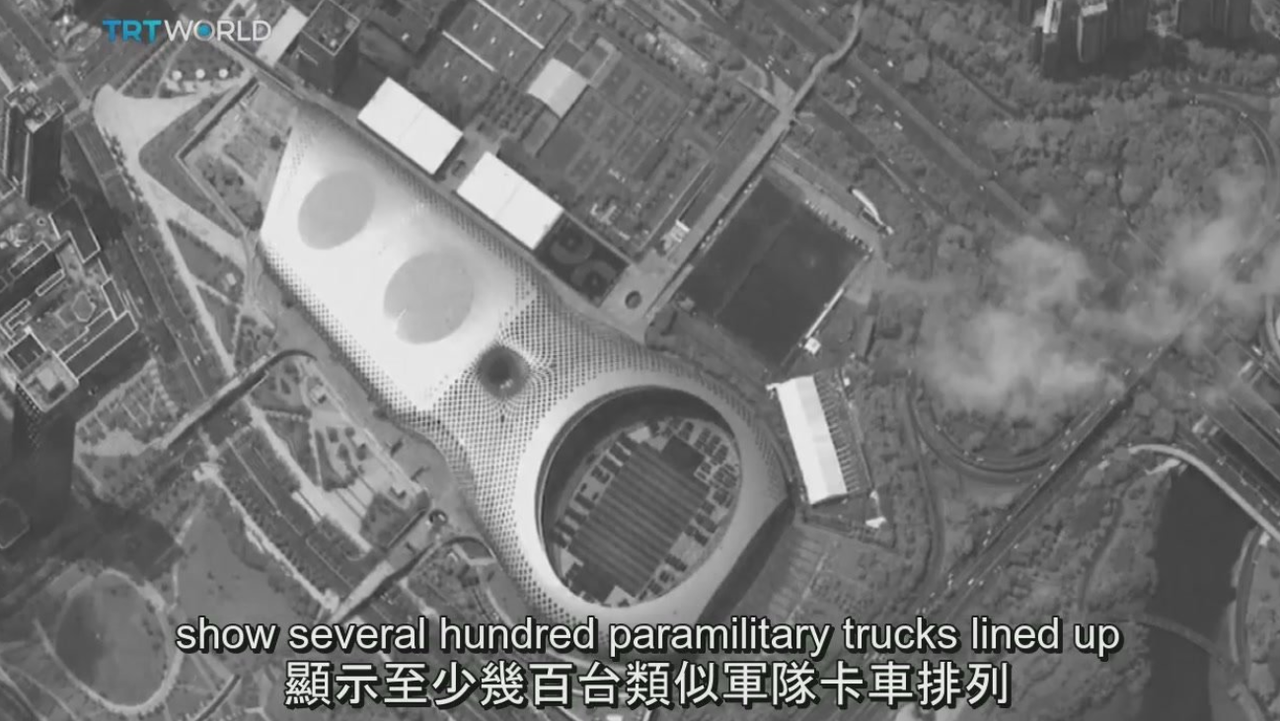 And let's not forget the video of military vehicles clogging the streets of Shenzen.
…click on the above link to read the rest of the article…
China's agriculture ministry warned in June that it found fall armyworms in 21 provinces, across 333,000 hectares of crops.
Fall armyworms (Spodoptera frugiperda) are a destructive garden pest that can destroy a variety of crops as well as grasses.
Chinese officials are worried about prevention and control measures of the pest might be failing, which could lead to crop losses this year.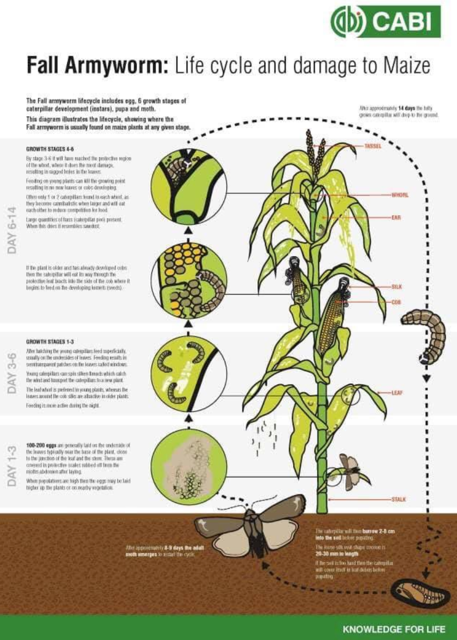 Beijing warned fall armyworms could damage hundreds, if not thousands of hectares of crops, leading to possible food security issues for the country.
To counter the pest, China has requested farmers in the 21 provinces to use government-approved pesticides.
The "heart-devouring worm" – as locals call it – has spread almost 1,900 miles north since migrating from neighboring Myanmar earlier this year, now threatens 21 provinces and regions in China and could heavily impact the country's grain output.
In Yunnan, a province in southwestern China, the pest has already destroyed 86,000 hectares of corn, sugarcane, sorghum, and ginger crops.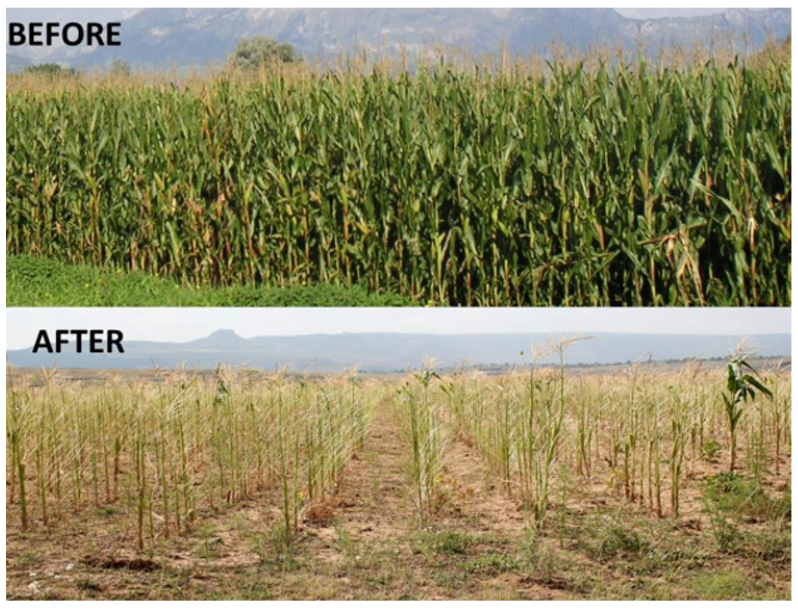 Fall armyworm started to spread through Africa and Asia in 2016, these pests, which are moths, fly 60 miles per night, is very challenging for farmers and governments to exterminate.
The pests have strained small farmers, who produce at least 90% of the country's crop.
In hard-hit Yunnan, the local government has installed 3,500 monitoring sites at farms to observe the pests and agriculture conditions, the provincial agriculture bureau wrote to Reuters via email.
For those who have grown bored with the ongoing US-China trade war whose escalation was obvious to all but the dumbest BTFD algos, the biggest news of the past week was that yet another Chinese bank was bailed out by the Chinese government – the third in the past three months – and a substantial one at that: with over 1.4 trillion yuan in assets ($200BN), Hang Feng Bank's nationalization was certainly large enough to make a dent on the Chinese financial system and on the Chinese Sovereign Wealth Fund, which drew the short straw and was told to bailout the troubled Chinese bank (more here).
Hang Feng's bailout followed those of Baoshang and Bank of Jinzhou, which means that 3 of the top 4 most troubled banks have now been either nationalized by an SOE or seized by the government, which is effectively the same thing.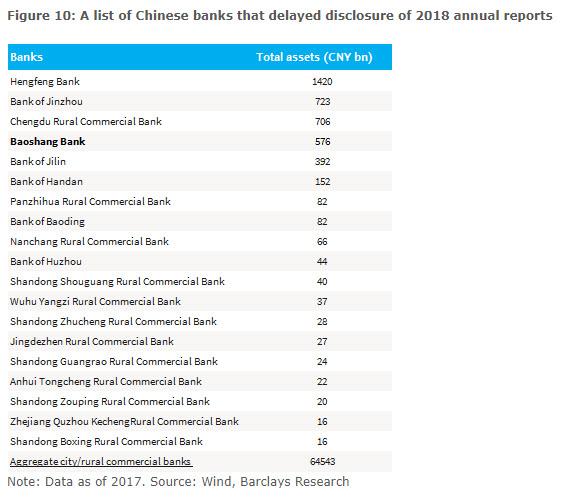 Of course, to regular readers this development was hardly surprising, especially after our post in mid-July when we saw the $40 trillion Chinese banking system approach its closest encounter with the proverbial "Lehman moment" yet, when inexplicably the four-day repo rate on China's government bonds (i.e., the cost for investors to pledge their Chinese government bond holdings for short-term funding) on the Shanghai exchange briefly spiked to 1,000% in afternoon trading.
While some attributed the surge to a fat finger, far more ominous signs were already present, and in the aftermath of the Baoshang failure, which has sent Chinese banking stocks tumbling, one-day and seven-day weighted average borrowing rates had remained low thanks to huge central bank cash injections – such as the 250BN yuan we described back in May – longer tenors such as the 1 month repo have marched sharply higher.
…click on the above link to read the rest of the article…
U.S. Currency Wars With China—Past And Present
In a purely political move, the Trump administration (read: the U.S. Treasury) has branded China as a currency manipulator. This is an act of war. After President Trump announced that even more tariffs would be imposed on China, the markets took the value of the Chinese yuan down a notch or two. So, who was "manipulating" the yuan, Beijing or Washington? Well, it looks like Washington is engaging in yet another Asian currency war.
As it turns out, the United States has a long history of waging currency wars in Asia. We all know the sad case of Japan. The U.S. claimed that unfair Japanese trading practices were ballooning its bilateral trade deficit with Japan. To "correct" the so-called problem, the U.S. demanded that Japan adopt an ever-appreciating yen policy. The Japanese complied and the yen appreciated against the greenback from 360 in 1971 to 80 in 1995 (and 106, today). But, this didn't close the U.S. trade deficit with Japan. Indeed, Japan's contribution to the overall U.S. trade deficit reached almost 60% in 1991. And, if that wasn't enough, the yen's appreciation pushed Japan's economy into a deflationary quagmire.
Today, the U.S. is playing the same baseless blame game with China. And why not? After all, China's contribution to the overall U.S. trade deficit has surged to 47%.
America's recent declaration of economic war against China isn't the first time the U.S. has used currency as a weapon to destabilize the Middle Kingdom. In the early 1930s, China was still on the silver standard, and the United States was not. Accordingly, the Chinese yuan-U.S. dollar exchange rate was determined by the U.S. dollar price of silver.
During his first term, President Franklin D. Roosevelt delivered on his Chinese currency stabilization "plan." It was wrapped in the guise of doing something to help U.S. silver producers and, of course, the Chinese.
 …click on the above link to read the rest of the article…
Two of the world's most important powers, India and Pakistan, are locked into an extremely dangerous confrontation over the bitterly disputed Himalayan mountain state of Kashmir. Both are nuclear armed.
Kashmir has been a flashpoint since Imperial Britain divided India in 1947. India and Pakistan have fought numerous wars and conflicts over majority Muslim Kashmir. China controls a big chunk of northern Kashmir known as Aksai Chin.
In 1949, the UN mandated a referendum to determine if Kashmiris wanted to join Pakistan or India. Not surprisingly, India refused to hold the vote. But there are some Kashmiris who want an independent state, though a majority seek to join Pakistan.
India claims that most of northern Pakistan is actually part of Kashmir, which it claims in full. India rules the largest part of Kashmir, formerly a princely state. Pakistan holds a smaller portion, known as Azad Kashmir. In my book on Kashmir, 'War at the Top of the World,' I called it 'the globe's most dangerous conflict.' It remains so today.
I've been under fire twice on the Indo-Pak border in Kashmir, known as the 'Line of Control,' and once at 15,000 feet atop the Siachen Glacier on China's border. India has over 500,000 soldiers and paramilitary police garrisoning its portion of Kashmir, whose 12 million people bitterly oppose often corrupt and brutal Indian rule – except for local minority Hindus and Sikhs who support it. A bloody, bitter uprising has flared on against Indian rule since 1989 in which some 42,000 people, mostly civilians, have died.
About 250,000 Pakistani troops are dug in on the other side of the ceasefire line.
…click on the above link to read the rest of the article…
It wasn't supposed to work this way.
In the rate cut playbook envisioned by Trump, Powell's July 31st rate cut was supposed to send stocks higher while crushing the dollar. However, when the FOMC announce a "mid-cycle", 25bps cut, the outcome was not only a surge in the dollar but also a surge in volatility not seen so far this year.
The sequence of events is familiar to all by now: at first, Powell's rate cut spooked the market which had been expected either a 50bps cut, or an explicit promise of an easing cycle. It got neither, and neither did Trump, who the very next day realized that with the Fed now explicitly focusing on global uncertainties, read trade war, as a catalyst for future rate cuts as demonstrated by the following infamous chart…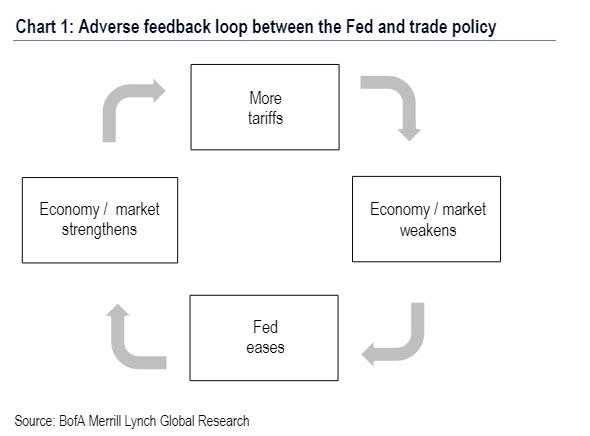 …. decided to escalate the trade war with China by announcing 10% tariffs on the remaining $300BN in Chinese imports, sending stocks and bond yields plunging, and the market pricing in as much as 100bps of more rate cuts in 12 months, forcing Powell to cut far more than just another 25bps or so as the Fed Chair suggested in the July FOMC meeting.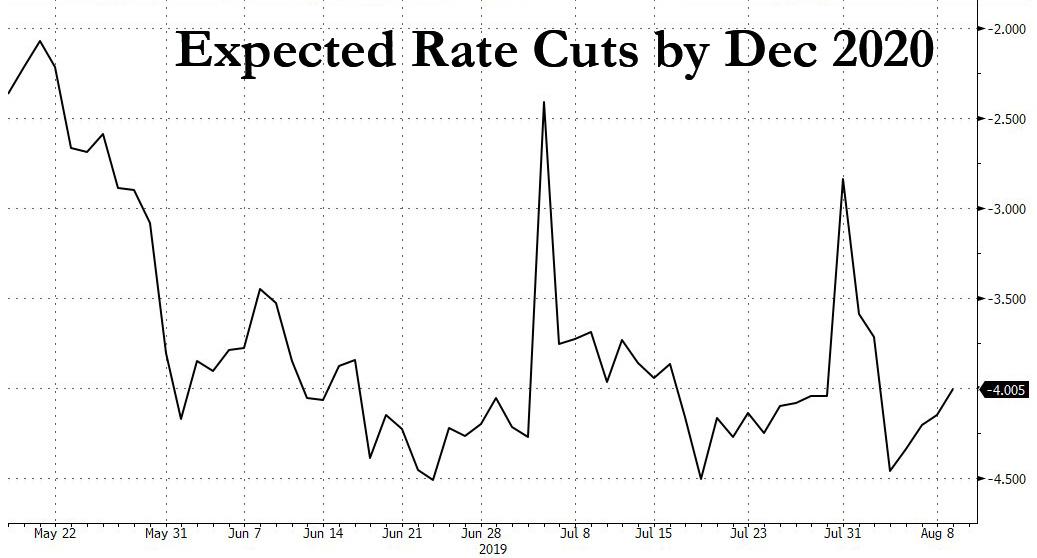 China immediately retaliated by devaluing the Yuan below 7.00 for the first time since 2008 and halting US ag imports, which in turn prompted the US Treasury to declare China a currency manipulator. Meanwhile, China's yuan devaluation means the White House is set to unveil even higher tariffs, resulting in an even weaker yuan, and so on, in a toxic feedback loop that may soon escalate the trade and currency war into an all-out shooting war.
…click on the above link to read the rest of the article…
In the past week the pressure on China by the U.S. has escalated daily. Since the trade delegation came back from China with lunch barely digested the Trump Administration has gone into over drive on demonizing China here at home.
From finally declaring China a currency manipulator after years of threats on Monday the latest is now a planted story in Axios that Vice-President Mike Pence bringing forth a list of Chinese officials to sanction for Human Rights violations under the Global Magnitsky Act.
This is based on a lie, of course. A lie helped along by Bob Fu, the head of ChinaAid, an NGO working, nominally, to alleviate the horrors of the Chinese government. Or, at least, that's what you're supposed to believe.
Vice President Mike Pence has signaled that the Trump administration is open to using the Global Magnitsky Act to sanction top officials in Xinjiang, China, where more than 1 million Uighur Muslims are being held in internment camps, according to a Chinese religious freedom advocate who met with Pence at the White House Monday.
Notice how Axios still states this as fact, that the Chinese are running 1 million people in concentration camps, even though the story was quickly debunked as the rogue statement by U.N. committee member, Gay MacDougall, who claimed this 1 million number was real.
It's not true, because if it was someone credible would have confirmed it. But it's a lie that has been breathlessly repeated for the past year to create the illusion of reality so that now Pence can pile on to further inflame the 'China is evil' story to hapless Trump supporters giddy at their chosen savior's tough stance on China.
…click on the above link to read the rest of the article…
As the situation in Hong Kong continues to deteriorate, Beijing has issued a warning that protesters would soon be punished for "criminal acts," and has refused to rule out military force to quell ongoing anti-government demonstrations, according to The Telegraph.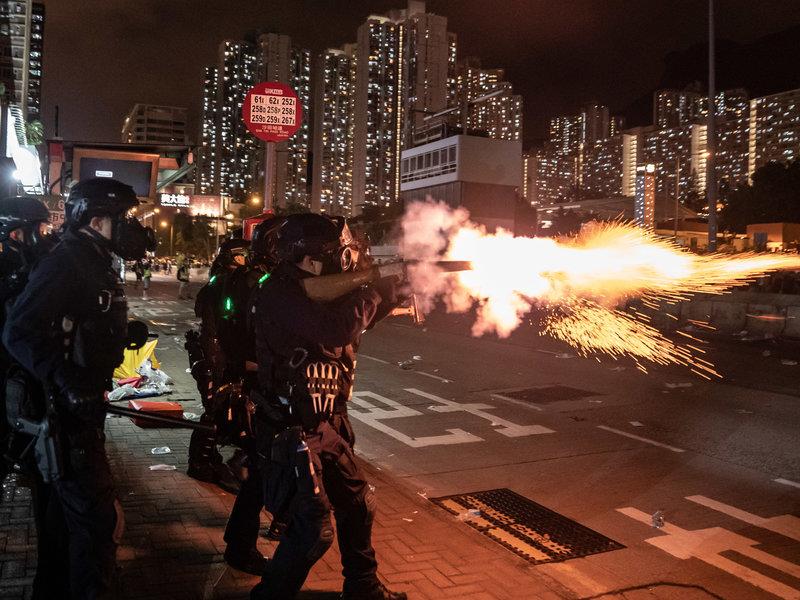 According to a spokesman for the Beijing-controlled Hong Kong and Macau Affairs Office, demonstrators are causing "Hong Kong to slide into a dangerous abyss," adding "As for their punishment, it's only a matter of time."
The Chinese government will never allow any acts that challenge national unity, sovereignty or security, he said, sternly reminding residents that the People's Liberation Army was a "strong and reliable force that defends every inch of its territory."

In a jab at protesters, Mr Yang referred to their main slogan, "Reclaim Hong Kong, revolution of our times," by reminding them Hong Kong was a part of China, saying, "I want to ask those people shouting this, 'what of Hong Kong do you want to reclaim? Where exactly do you want to reclaim Hong Kong to?" –Telegraph
Meanwhile, over 12,000 Shenzhen police officers conducted a publicly broadcasted crowd-control drill – offering protesters a taste of what's to come.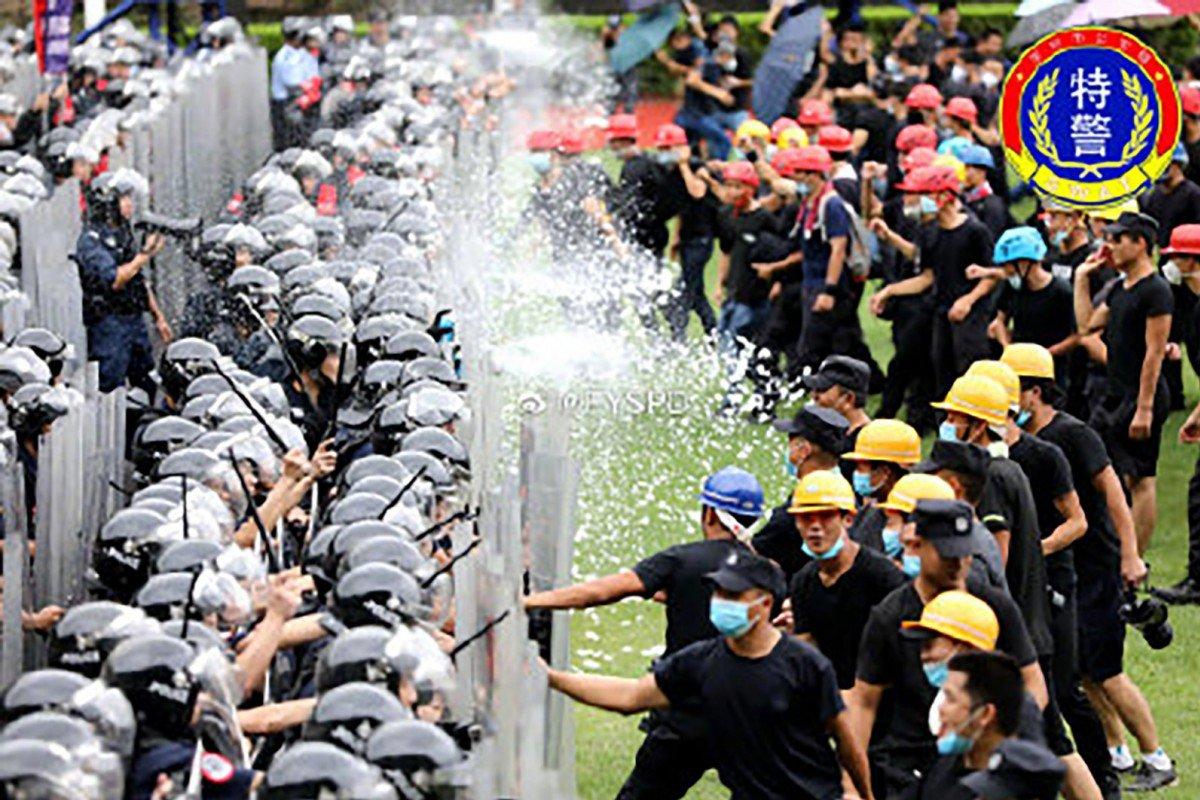 "A drill will be held to increase troop morale, practise and prepare for the security of celebrations, [and] maintain national political security and social stability," according to police.
In live videos of the police drills shown on the Yizhibo network, officers in body armour, helmets and shields confronted groups of people in black shirts and red or yellow construction safety helmets – similar to those worn by Hong Kong protesters – who were holding flags, banners, batons and wooden boards. –SCMP
…click on the above link to read the rest of the article…
China's Global Times — the communist country's hawkish, belligerent state tabloid — has responded to the Pentagon's Friday announcement stating the US is looking to deploy intermediate range ballistic missiles to Asia "within months," warning "it will certainly trigger an intense arms race in the region."
Its editorial board, long understood as a mouthpiece of the state, has slammed remarks made by US Defense Secretary Mark Esper outlining the new mid-range ballistic missile deployment plans, crucially which came immediately on the heels of the formal collapse of the landmark US-Russia INF treaty, saying American greed and naked drive for hegemony will spark a dangerously unprecedented arms race which will fuel further "instability" across Asia. The Global Times commentary opens with:
The US is greedily pursuing an absolute and all-sided military superiority to consolidate its hegemony. It refuses to accept any relative balance of power. Such a stubborn and overbearing country has become the largest source of Asia's instability.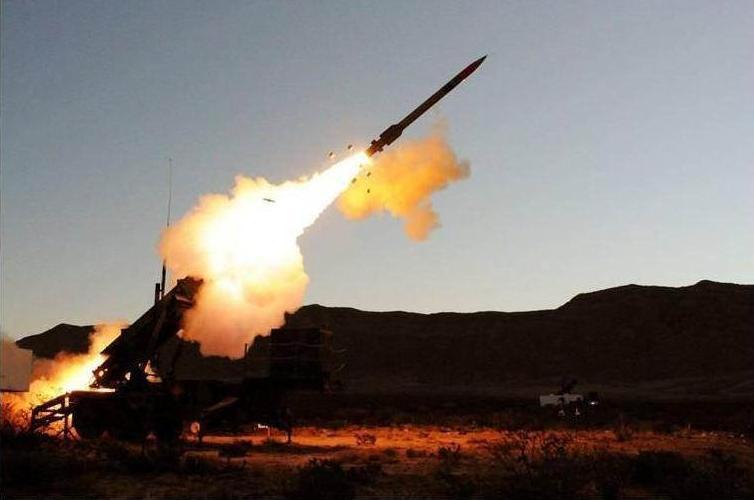 The authors further warn US plans will "break the status quo" in Asia, unleashing "geopolitical chaos" by deploying offensive weapons, because "Any country accepting US deployment would be against China and Russia, directly or indirectly, and draw fire against itself."
"Asian countries must collectively resist the US' attempt in creating new crisis in this region and prevent it from provoking extreme arms races and forcing all countries to take sides," the editorial urges further.
 …click on the above link to read the rest of the article…
The key merit of China's National Defense in the New Era, a white paper released by the State Council in Beijing, is to clear any remaining doubts about where the Middle Kingdom is coming from, and where it's going to by 2049, the mythical date to, theoretically, be restored as the foremost global power.
Although not ultra-heavy on specifics, the white paper certainly should be read as the Chinese counterpoint to the US National Security Strategy, as well as the National Defense Strategy.
It goes without saying that every sentence is being carefully scrutinized by the Pentagon, which regards China as a "malign actor" and "a threat" – the terminology associated with its "Chinese aggression" mantra.
To cut to the chase, and to the perpetuating delight of China's supporters and critics, here are the white paper's essentials.
What global stability?
The Beijing leadership openly asserts that as "the US has adjusted its national security and defense strategies, and adopted unilateral policies" that essentially "undermined global strategic stability." Vast sectors of the Global South would concur.
The counterpart is the evolution of "the China-Russia comprehensive strategic partnership of coordination for a new era," now playing "a significant role in maintaining global strategic stability."
In parallel, Beijing is very careful to praise the "military relationship with the US in accordance with the principles of non-conflict, non-confrontation, mutual respect and win-win cooperation." The "military-to-military relationship" should work as "a stabilizer for the relations between the two countries and hence contribute to the China-US relationship based on coordination, cooperation and stability."
Another key counterpart to the US – and NATO – is the increasingly crucial role of the Shanghai Cooperation Organization (SCO), which is "forging a constructive partnership of non-alliance and non-confrontation that targets no third party, expanding security and defense cooperation and creating a new model for regional security cooperation."
…click on the above link to read the rest of the article…
French Finance Minister Bruno Le Maire has publicly admitted something normally reserved for backroom discussion in the circles of Europe's governing elite at an event honoring the 75thanniversary of Bretton Woods (the conference which created the foundations for the post WWII world order).
At this event, Le Maire stated ever-so candidly that "the Bretton Woods order has reached its limits. Unless we are able to re-invent Bretton Woods, the New Silk Road might become the New World Order".
He went onto state that "the pillars of that order have been the International Monetary Fund and its sister institution, the World Bank since their inception at the Bretton Woods conference in New Hampshire in 1944."
Were a radical transformation not undertaken immediately, then Le Maire laments "Chinese standards on state and on access to public procurements, on intellectual property could become global standards".
The finance minister's statements reflect the growing awareness that two opposing systems operating on two conflicting sets of principles and standards are currently in conflict, where only one can succeed. Yet as much as he appears to be aware of the forces at play between two systems, Le Maire fails miserably to identify what the Bretton Woods System was meant to accomplish in the first place, or what type of "radical transformation" is needed to save Europe from the collapse of its own speculation-ridden system.
Le Maire dives so deeply out of reality that he actually believes that the radical transformation desperately needed in the west does not involve collaborating with the New Silk Road, but rather to strengthen the power of Brussels, while becoming more technocratic and more green (aka: de-industrialized, de-populated).
…click on the above link to read the rest of the article…
Donald Trump says he's 'okay either way', whether there's war with Iran and Tehran seems to be okay with that too, warns Pepe Escobar.
All bets are off in the geopolitical insanity stakes when we have the President of the United States (POTUS) glibly announcing he could launch a nuclear first strike to end the war in Afghanistan and wipe it "off the face of the earth" in one week. But he'd rather not, so he doesn't have to kill 10 million people.
Apart from the fact that not even a nuclear strike would subdue the legendary fighting spirit of Afghan Pashtuns, the same warped logic – ordering a nuclear first strike as one orders a cheeseburger – could apply to Iran instead of Afghanistan.
Trump once again flip-flopped by declaring that the prospect of a potential war in the Persian Gulf "could go either way, and I'm OK either way it goes," much to the delight of Beltway-related psychopaths who peddle the notion that Iran is begging to be bombed.
No wonder the whole Global South – not to mention the Russia-China strategic partnership – simply cannot trust anything coming from Trump's mouth or tweets, a non-stop firefight deployed as intimidation tactics.
At least Trump's impotence facing such a determined adversary as Iran is now clear: "It's getting harder for me to want to make a deal with Iran." What remains are empty clichés, such as Iran "behaving very badly" and "the number one state of terror in the world" – the marching order mantra emanating from Tel Aviv.
Even the – illegal – all-out economic war and total blockade against Tehran seems not to be enough. Trump has announced extra sanctions on China because Beijing is "accepting crude oil" from Iran. Chinese companies will simply ignore them.
…click on the above link to read the rest of the article…
Photograph Source: Trending Topics 2019 – CC BY 2.0
Today's world is at war on many fronts. The rules of international law and order put in place toward the end of World War II are being broken by U.S. foreign policy escalating its confrontation with countries that refrain from giving its companies control of their economic surpluses. Countries that do not give the United States control of their oil and financial sectors or privatize their key sectors are being isolated by the United States imposing trade sanctions and unilateral tariffs giving special advantages to U.S. producers in violation of free trade agreements with European, Asian and other countries.
This global fracture has an increasingly military cast. U.S. officials justify tariffs and import quotas illegal under WTO rules on "national security" grounds, claiming that the United States can do whatever it wants as the world's "exceptional" nation. U.S. officials explain that this means that their nation is not obliged to adhere to international agreements or even to its own treaties and promises. This allegedly sovereign right to ignore on its international agreements was made explicit after Bill Clinton and his Secretary of State Madeline Albright broke the promise by President George Bush and Secretary of State James Baker that NATO would not expand eastward after 1991. ("You didn't get it in writing," was the U.S. response to the verbal agreements that were made.)
Likewise, the Trump administration repudiated the multilateral Iranian nuclear agreement signed by the Obama administration, and is escalating warfare with its proxy armies in the Near East. U.S. politicians are waging a New Cold War against Russia, China, Iran, and oil-exporting countries that the United States is seeking to isolate if cannot control their governments, central bank and foreign diplomacy.
* Keynote Paper delivered at the 14th Forum of the World Association for Political Economy, July 21, 2019.
…click on the above link to read the rest of the article…
A few days after another round of violent protests rocked Hong Kong, Beijing on Wednesday issued its harshest warning yet to the citizens of Hong Kong: It sought to remind them that Beijing has the authority to mobilize the People's Liberation Army garrison in Hong Kong if it felt that the central government's authority was threatened.
The New York Times reports that the warning was part of the unveiling of the Communist Party's new "defense strategy" which relied heavily on demonizing the western powers – an oblique reference to the US and the UK – for encouraging the protests.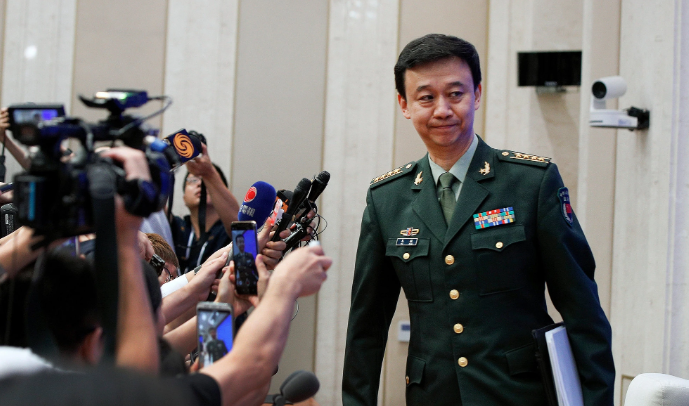 Citing the Sunday protests, Senior Col. Wu Qian, a spokesman for China's defense ministry, implied that the destructive behavior – protesters painted the central government's liaison office with graffiti, the latest example of the extradition bill protests leading to the vandalism of government buildings – was swiftly straining the patience of Beijing.
"The behavior of some radical protesters challenges the central government's authority, touching on the bottom line principle of 'one country, two systems,'" Colonel Wu said during a news conference in Beijing where he laid out the government's new strategy. "That absolutely cannot be tolerated."
When pressed, Wu said that "Article 14 of the Garrison Law has clear stipulations," and refused to elaborate, the SCMP reports.
Hong Kong's government would need to request the garrison's assistance, like it does during a natural disaster.
In response, a spokesman for the Hong Kong government said on Wednesday that the city was "fully capable" of dealing with its own affairs.
"There is no need to ask for assistance from the garrison," he said.
Eric Chan Kwok-ki, director of the Chief Executive's Office, dismissed Wu's reference to the Garrison law, suggesting that it wasn't a threat.