Home » Posts tagged 'central banks'
Tag Archives:
central banks
When an economy turns from expansion to contraction there is an order of events. The first signs are an unexpected increase in inventories of unsold goods, both accompanied with and followed by business surveys indicating a general softening in demand. For monetarists, this is often confirmed by an inverting yield curve, which tells them that at the margin the short-term rates set by the central bank are becoming too high for business conditions.
That was the position for the US 10-year bond less the 2-year bond very briefly at the end of August, since when this measure, which is often taken to predict recessions, has turned mildly positive again. A generally negative sentiment, fueled mainly by the escalating tariff war between America and China, had earlier alerted investors to an international trade slowdown, expected to undermine the American economy in due course along with all the others. It stands to reason that backward-looking statistics have yet to reflect the global slowdown on the US economy, which is still buoyed up by consumer credit. The German economy, which is driven by production rather than consumption is perhaps a better guide and is already in recession.
After an initial hit, a small recovery in investor sentiment is understandable, with the negative outlook perhaps having got ahead of itself. But we must look beyond that. History shows the combination of a peak in the credit cycle and tariffs can be economically lethal. A brief return to a positive yield curve achieves little more than a sucker rally. It may be enough to put further monetary expansion on pause. But when that is over, and jobs begin to be threatened, there can be no doubt that central banks will ramp up the printing presses.
…click on the above link to read the rest of the article…
More and more global leaders sound the alarm that the world economy is headed for a difficult period in 2020.
Unlike several years ago, leaders across the world are now calling for immediate deployment of fiscal stimulus, but not monetary stimulus, a sign that central banks are out of ammunition to combat the next economic crisis.
UN Secretary-General António Guterres warned that the global economic outlook is facing severe headwinds, and the international community must quickly act to "do everything possible" to prevent the world from "fracturing," mostly due to the US and China trade war.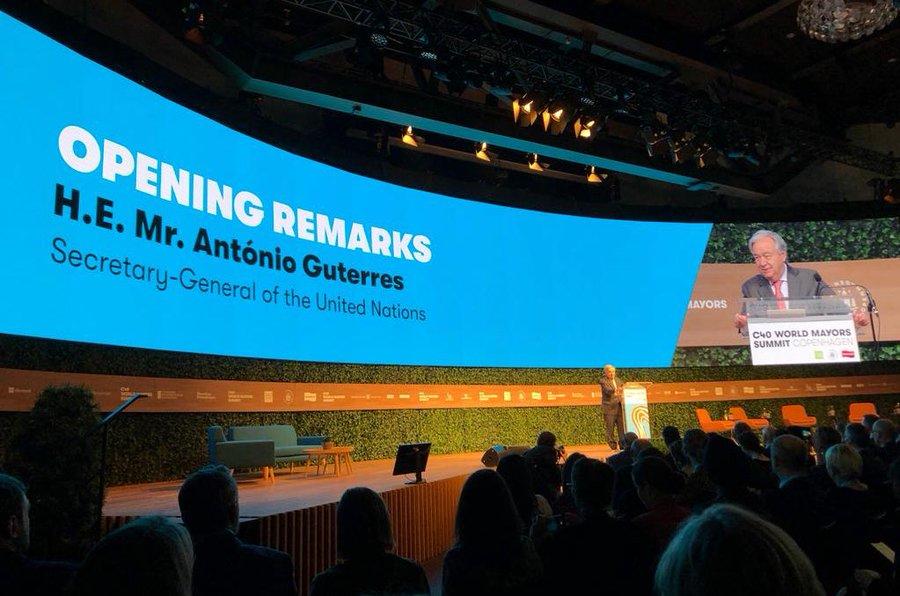 Guterres spoke on Saturday at the World Bank Group and IMF Annual Meetings in Washington, DC.
He said that "during tense and testing times," he "fears the possibility of a Great Fracture – with the two largest economies splitting the globe in two – each with its own dominant currency, trade and financial rules, its own internet and artificial intelligence capacities and its own zero-sum geopolitical and military strategies."
He told international bankers that "it is not too late to avoid" this fracturing of the world, but "we must do everything possible to avert this…and maintain a universal economy with universal respect for international law; a multipolar world with strong multilateral institutions, such as the World Bank and IMF." 
…click on the above link to read the rest of the article…
As armies of fixed income strategists battle over whether US Treasuries are facing higher or lower yields, Greece has no such qualms and in a historic shift today, the former bond market pariah and Eurozone's most indebted nation, joined the exclusive club of negative-yielding European nations when bond investors lined up to pay the nation that was at the heart of Europe's sovereign debt crisis.
A sale of €487.5 million of 13-week bills on Wednesday drew Greece's first-ever negative yield of minus 0.02% as investors now pay Athens for the privilege of lending it cash, as Bloomberg first reported. Greece joins the likes of Ireland, Italy and Spain – not to mention virtually all core Eurozone nations – which benefit from the ECB's insane monetary policy and deepening fears of a global recession.
It's been an unprecedented turnaround for twice bankrupt Eurozone member, whose bondholders suffered massive losses back in March 2012 when the country was forced to accept the biggest bond restructuring in history, bringing the Eurozone to the verge of collapse.
Just a few years and several trillions in bond purchases by the ECB later, the region is grappling with an altogether different problem – the spread of negative yields, which reduces borrowing costs for governments in a form of soft default, one which is crushing savers, pension funds and insurers, and which has prompted some of the most respected names in finance to shriek in terror as the cost of money in even Europe's most insolvent nations is now negative.
Jon Day, a fixed-income portfolio manager at Newton Investment Management, said the move was "another symptom" of the "global grab for yield, especially in euro-denominated bonds," pointing out that short-dated Greek bonds were previously one of the few government markets where a positive return was on offer.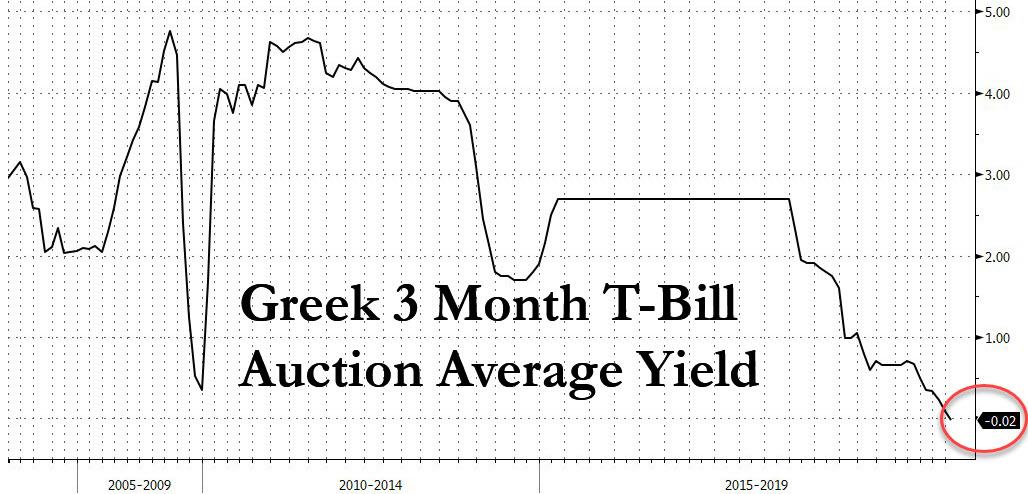 Turkey Joins Russia's Ruble-Based Alternative To SWIFT
After repeated warnings over the past couple of years, Turkey and Russia have signed a pact to increase use of the ruble and lira in cross-border payments, with Turkey signing on to Russia's alternative to SWIFT, the international telecommunications protocol used by banks and central banks the world over.
Though SWIFT is an international cooperative owned by its members, with more than 10,000 banks worldwide relying on its system for handling sizable inter-bank transactions, the safety of the network was brought into question after a series of cyberattacks in 2015 and 2016 resulted in the theft of $101 million from the Central Bank of Bangladesh.
For the first time since SWIFT's laucnh, the hacks stoked doubts about the system's safety, and prompted many US rivals, including Russia, to ramp up work on their alternatives to SWIFT.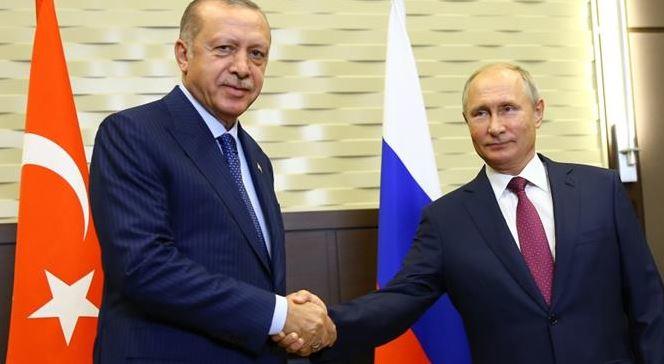 In addition to Turkey, China and Russia have signed agreements to bolster trade between the two countries, including settling a larger percentage of their bilateral trade in rubles and renminbi. For China, bilateral trade with Russia grew from $69.6 billion in 2016 to $107.1 billion last year. China is Russia's biggest partner for imports and exports.
There has also been talk about India joining Russia's SWIFT alternative as Washington continues to threaten New Delhi with sanctions over its decision to purchase Russian-made missile-defense systems.
According to Reuters, Russian Finance Minister Anton Siluanov signed the agreement with Ankara on Tuesday. The agreement, signed on Oct. 4, will encourage the two countries to start using Russia's system in mutual settlements.
…click on the above link to read the rest of the article…
The Repo Market Incident May Be The Tip Of The Iceberg
The Federal Reserve has injected $278 billion into the securities repurchase market for the first time. Numerous justifications have been provided to explain why this has happened and, more importantly, why it lasted for various days. The first explanation was quite simplistic: an unexpected tax payment. This made no sense. If there is ample liquidity and investors are happy to take financing positions at negative rates all over the world, the abrupt rise in repo rates would simply vanish in a few hours.
Let us start with definitions. The repo market is where borrowers seeking cash offer lenders collateral in the form of safe securities. Repo rates are the interest rate paid to borrow cash in exchange for Treasuries for 24 hours.
Sudden bursts in the repo lending market are not unusual. What is unusual is that it takes days to normalize and even more unusual to see that the Federal Reserve needs to inject hundreds of billions in a few days to offset the unstoppable rise in short-term rates.
Because liquidity is ample, thirst for yield is enormous and financial players are financially more solvent than years ago, right? Wrong.
What the Repo Market Crisis shows us is that liquidity is substantially lower than what the Federal Reserve believes, that fear of contagion and rising risk are evident in the weakest link of the financial repression machine (the overnight market) and, more importantly, that liquidity providers probably have significantly more leverage than many expected.
In summary, the ongoing -and likely to return- burst in the repo market is telling us that risk and debt accumulation are much higher than estimated. Central banks believed they could create a Tsunami of liquidity and manage the waves.
…click on the above link to read the rest of the article…
There is an emerging view held by many commentators that it is banks and not the central bank that are key for the expansion of money. This way of thinking is promoted these days by the followers of the post Keynesian school of economics (PK).[1] In a research paper by the Bank of England's Zoltan Jakab and Michael Kurnhof, they suggest that
In the intermediation of loanable funds model of banking, banks accept deposits of pre-existing real resources from savers and then lend them to borrowers. In the real world, banks provide financing through money creation. That is they create deposits of new money through lending, and in doing so are mainly constrained by profitability and solvency considerations.[2]
It seems that for the researchers at the Bank of England and PK followers the key for money creation is demand for loans, which is accommodated by banks increasing lending. In this framework, banks do not have to be concerned with the means of lending, all that is necessary here that there is a demand for loans, which banks are going to accommodate i.e. demand creates supply.
According to the Bank of England researchers,
In the real world, the key function of banks is the provision of financing, or the creation of new monetary purchasing power through loans, for a single agent that is both borrower and depositor. The bank therefore creates its own funding, deposits, in the act of lending, in a transaction that involves no intermediation whatsoever. Third parties are only involved in that the borrower/depositor needs to be sure that others will accept his new deposit in payment for goods, services or assets. This is never in question, because bank deposits are any modern economy's dominant medium of exchange.[3]
…click on the above link to read the rest of the article…
In the end, it will mean all the difference
My business partner Adam and I recently met with a successful business owner whose career began on Wall Street. The kind of guy who should be rooting for the system, because it has treated him well.
Instead, he was quite nervous about the sustainability of the status quo. "Starting in August," he said, "Maybe it was the Amazon catching fire, maybe it was the negative interest rates – I don't know for certain what the trigger was – but something has snapped."
I agree. Because I feel it, too.
As do so many others. And not just those who regularly read PeakProsperity.com. Increasingly, even 'mainstream' voices are stating to report a profound sense that something really isn't right. That — from the economy to geopolitics to the natural world — things are swiftly worsening.
Public perception is beginning to shift from complacency to fear. Countries are fast rejecting globalization in favor of nationalization. The holes in our ecosystem — vanishing birds, insects, amphibians and fish stocks — are becoming frighteningly obvious. The threats to life as we're accustomed to it are becoming more visible while accelerating in both magnitude and frequency.
I expounded on the danger of this in my recent report It's the Pace of Change That Kills You. Negative developments can spark their own vicious cycle. The more components of a system that fail, the more at risk the remaining components become.
That report was published just two weeks ago. Since then the world's largest oil refinery was attacked by hostile forces and knocked out of commission, throwing the future integrity of the global oil market into question. Scientists just announced that North America has lost 29% of its total bird population (a drop of -3 billion) in the past half century.
…click on the above link to read the rest of the article…
How to Hang on to Greenland
Jim Bianco, head of the eponymous research firm, handily won the internet last Thursday with the following tweet:
Jim Bianco has an excellent idea as to how Denmark might after all be able to hang on to Greenland, a territory coveted by His Eminence, POTUS GEESG Donald Trump (GEESG= God Emperor & Exceedingly Stable Genius).
Evidently the mad Danes running the central bank of this Northern European socialist paradise were reacting to the ECB Council's decision earlier that day to carpet-bomb the euro zone economy with another dose of monetary napalm.
The sad spectacle was the outcome of the penultimate ECB meeting chaired by Mario Draghi, who will undoubtedly enter the history books in the "what not to do" section, inter alia as the only central bank chieftain who didn't raise interest rates even once during his entire term.
Mario Draghi, the scourge of Old World savers
The Beatings Will Continue Until Morale Improves… or Something
The following tablet engraved with decisions was handed down from the Europe's Central Planning Olympus:
(1) The interest rate on the deposit facility will be decreased by 10 basis points to -0.50%. The interest rate on the main refinancing operations and the rate on the marginal lending facility will remain unchanged at their current levels of 0.00% and 0.25% respectively. The Governing Council now expects the key ECB interest rates to remain at their present or lower levels until it has seen the inflation outlook robustly converge to a level sufficiently close to, but below, 2% within its projection horizon, and such convergence has been consistently reflected in underlying inflation dynamics.
…click on the above link to read the rest of the article…
Peter Schiff has been saying that the Federal Reserve is going to take interest rates back to zero and launch another round of quantitative easing in order to reinflate the bubble economy after the next crash. The central bank successfully pulled this off after the 2008 crisis. By dropping rates to zero and holding them there for nearly a decade, and running three rounds of QE, the Fed has reinflated the real estate bubble, blown up a bond bubble and pumped up the stock market. But Peter said it's not going to work the next time around. Instead, Fed monetary policy will tank the dollar and lead to an inflationary recession.
So, why can't the Fed pull off another rescue? Peter explained why he thinks it's not possible during an interview on the Tom Woods Show.
Peter admitted he didn't think the Fed could rescue the economy in 2008.
I underestimated the ability of the Fed to get away with quantitative easing and for the world to basically accept this and to enable this."
So today, we have even bigger bubbles than we did in 2006-2007.
The question is — the Fed did it before, can it do it again? Peter said he wouldn't bet on it.
I would not want to bet that is possible given the enormity of the problem now."
Peter said you just have to consider the sheer amount of intervention that would be necessary to reinflate the bubbles once they pop the next time.
…click on the above link to read the rest of the article…
Last year I asked whether Turkey would be "City Zero in Global Contagion." That question was based on the crisis unfolding in the Turkish lira which materially threatened a number of major European banks, especially those in Italy.
This week highlighted something really interesting for me that, I think, sets in motion a similar thesis about Turkey but for much different reasons. The sovereign debt crisis will come about purely because of a failure of confidence in institutions.
Competence is the key to staying at the top of human dominance hierarchies, not force. Those built on competence tend to last and those built on force are, at best, meta-stable for a specific period of time.
The difference between what's happening in Turkey with President Erdogan taking control of the Turkish central bank and the end of Mario Draghi's term heading the ECB cuts to the heart of this issue of competence versus force.
The Draghi Put-on
Draghi has projected this aura of the ever-in-control competent manager of Europe's finances while steadfastly holding to policy ideas which have done nothing but destroy capital formation within the Eurozone.
His last statement and policy decision this week are emblematic of his inflexibility both intellectually and politically. And it's clear that he's trapped at whatever negative-bound he's got in his head, handing off a Europe on the verge of collapse to his sister-in-tyranny, Christine Lagarde.
Draghi just fired his "Cheap Money Bazooka" on his way out the door to kick the can down the road another few months.

He's setting the stage for the full-blown monetization and collapse of the European banking system under his successor, former IMF chief Christine Lagarde. What hasn't worked for Europe for the past 11 years was just introduced again as the only way to save the situation.
…click on the above link to read the rest of the article…
No One Comes Back From This Uninjured. In one word, the devaluation is set to ESCALATE.
In fact, I term it Competitive Devaluation. There are several countries that will be the pioneers of it, but it will eventually reach the United States of America. In Europe and in Japan, we are closer to seeing it happening; in the next 2-5 years, you'll hear about governments' first official plans to do this.
They will NOT alert the media to notify the public to own gold and silver. They haven't thus far (and they won't going forward, either), and meanwhile they've been accumulating them at the fastest pace in more than half a century.
The central banks want to buy gold, uninterrupted. Since they do not buy silver, the mania that will ensue in that niche market will be huge.
Not just gold and silver stand to gain from devaluation; companies that are able to increase prices and not lose consumers will be great winners as well. These are the world-dominators with pricing power, and I will profile my top-5 holdings for the Endgame Decade (2020-2029) in a Special Report due to be published by September 30th.
Real estate prices in metropolitan areas will also continue to rise; these are hard assets that are difficult to increase in supply, but my analysis is that of the three – world-class companies, precious metals, and real estate, silver will be the BEST PERFORMER.
Central banks are not able to inflate the real debt levels away. The most extreme case of this is Japan, whose central bank has done ALMOST everything under the sun to relieve the country of its deflationary spiral and has failed miserably.
…click on the above link to read the rest of the article…
"Judging by bond markets around the world, economic Armageddon – or something awfully close to it – is just around the corner." – SocGen, September 5, 2019
"It's difficult to describe markets," said the CIO, reflecting on his decades of trading. "For what seems like forever, markets behaved in ways that reflected shifting expectations about central bank activity, economic trends, and profit potential, but that's changing," he said. "Now markets shift direction on a tweet then reverse on some comment. And nearly all of it is political." But even politics are different now.
"Yet through it all, global interest rates are collapsing like an economic calamity looms." 
* * *
"It is a bowl of water that might help put out a fire that has just started," said young Jimmy Sham, describing Carrie Lam's withdrawal of Beijing's extradition legislation. "But it is now useless in the face of what has become a forest fire," continued Jimmy, one of many leaders in Hong Kong's burning rebellion. Naturally, the government hopes that by meeting the protestor's principal demand, cries for further action will soften.
But that's not how crowds work. Hong Kong's emboldened freedom fighters have another four demands to go. Behind them lay more still. And far in the distance, beyond the event horizon, lay their ultimate objective, barely spoken of today, democratic revolution in China.
"Public discontent extends far beyond the bill," conceded Carrie Lam, exuding a manufactured calm, withdrawing the bill, "It covers political, economic and social issues, including problems relating to housing and land supply, income distribution, social justice and mobility." No doubt she's right.
…click on the above link to read the rest of the article…
---
"Slipping down Raki and reading Maynard Keynes…"
We really should focus on the signals emanating from bond markets. Forget the current political madness – yesterday saw a number of key moments for bond markets: UK Chancellor Sajid Javid hitting the spend button in the UK (whether it actually happens is a moot point), another $30 bln new issuance day in the US, BAWAG launching a 10-year negative yield Covered Bond, Spain about to launch a 50 year issue at a smidge over nothing, and Christine Lagarde lecturing the European Parliament about the need for Fiscal Policy initiatives.
It really feels like we are at something of a nexus for bonds and fiscal spending. Central Bankers and politicians are tinkering with new ideas (ie: old ones rehashed) about Monetary policy – because nothing they tried re QE and zero rates really worked the last 10-years. I can't help but feel it's like something out of The Walking Dead – the Neo-Keynesians have suddenly risen and now stalk the Earth. (Queue Thriller on the turntable…)
Politicians now see low interest rates as a phenomenal opportunity to sort out the bleak mess of the last 10-years of Austerity driven under-investment, and spend economies back into growth. It looks attractive. And, if they'd started 10-years ago.. then we'd probably not be where we are today…
Of course, corporates would be mad not to take advantage of current ultra-low rates to borrow.  But what are they going to spend the money on?  More distorting stock buy-backs and dividend recharges back to private equity owners?  Should investors be worried about the growing leverage?  If the crunch comes – well, 5% of issuers might default, but the rest will be fine… ish.  Meanwhile, ultra-low rates are great for stocks.  Not because companies are inherently more profitable, but largely because low rates make stocks relatively more attractive compared to low-yielding bonds, and encourage corporate buy-backs which further push up prices! 
…click on the above link to read the rest of the article…
Markets may need to be rebuilt on a new set of assumptions, but we don't know what those should be or how they would work.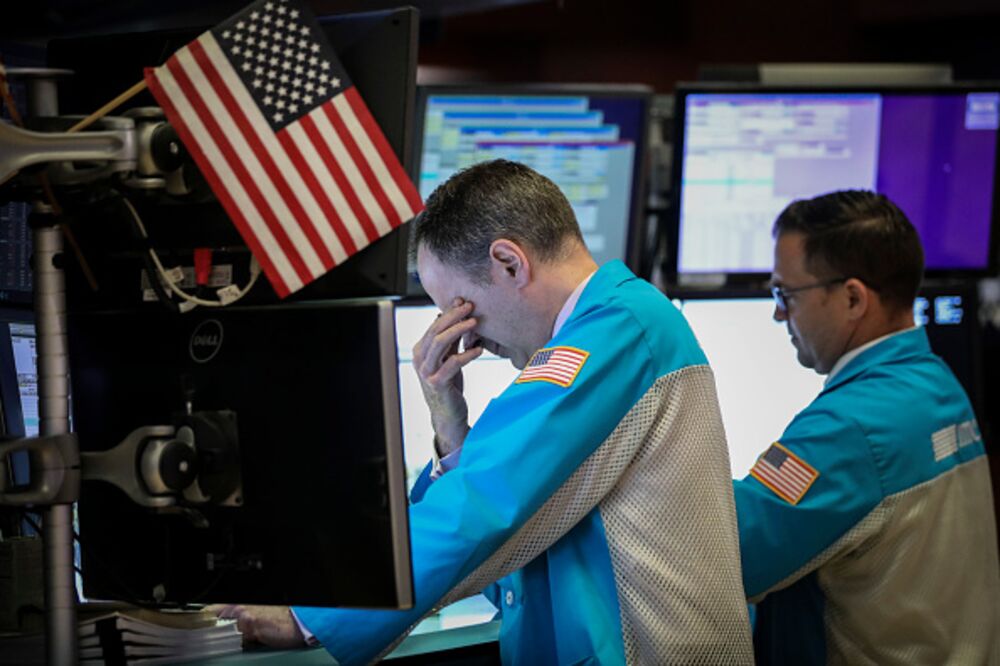 Jim Bianco is the President and founder of Bianco Research, a provider of data-driven insights into the global economy and financial markets. He may have a stake in the areas he writes about.
---
Former Federal Reserve Chairman Alan Greenspan recently said he wouldn't be surprised if yields on U.S. bonds turned negative and if they do, it wouldn't be "that big a of a deal." That seems to be a sentiment widely held in central banking circles these days, but it's wrong. Negative interest rates represent a threat to the financial system.
To understand why, let's start with the existing fractional reserve banking system, which is more than a century old. For every dollar that goes into a bank, some set amount (usually about 10%) must go into a reserve account to be overseen by the central bank. The rest is either lent out or used to buy securities.
In other words, the fractional reserve banking system is leveraged to interest rates. This works when rates are positive. Loans are made and securities bought because they will generate income for the bank. In a negative rate environment, the bank must pay to hold loans and securities. In other words, banks would be punished for providing credit, which is the lifeblood of an economy. As German bankers recently explained to the European Central Bank:
We already have a devastating interest rate situation today, the end of which is unforeseeable," Peter Schneider, who represents public-sector savings banks in the southern German state of Baden-Wuerttemberg, said on Wednesday. "If the ECB aggravates this course, that would hit not only the entire financial sector hard, but especially savers.
…click on the above link to read the rest of the article…
Grand Lake Stream | The conversations over the Labor Day weekend at Leen's Lodge ranged from negative interest rates to the efficacy of a bubble gum colored wacky worm vs live bait in late season bass fishing. We've mostly decided that a large mouth bass raised in Maine tastes about as good as small mouth bass when flash fried over an open fire.
Confirming that quality trumps quantity, we proved empirically that a single issue of Grant's Interest Rate Observer, supplemented with a few pine cones, is a superior fire starting accelerant than a whole section of The Financial Timesor The Wall Street Journal.
One major point of consensus view is that the global investment community needs to stop asking central banks to address issues for which they are neither suited professionally or politically. The spectacle of former New York Fed President William Dudley exhorting his former colleagues on the Federal Open Market Committee to resist President Trump was pathetic and sad, yet another faux pas for the Fed of New York this year.
The Dudley rant illustrates the collective madness that has consumed many observers over the past decade. In truth, the crisis of 2008 still has not been resolved. Dudley wrote:
"There's even an argument that the election itself falls within the Fed's purview. After all, Trump's reelection arguably presents a threat to the U.S. and global economy, to the Fed's independence and its ability to achieve its employment and inflation objectives."
Really?  Dudley displays the dangerous "I am Superman" complex we wrote about in 2010, a virus that has infected the Federal Reserve System over the past two decades.  Mission creep does not begin to describe the pathology of the madness that makes Fed officials think themselves omniscient.  We challenge Dudley to point to a section of the Federal Reserve Act than authorizes the political activity he suggests.
…click on the above link to read the rest of the article…