Speculators are reacting to other speculators who are reacting to whatever.
Sunday night, crude oil WTI futures, as soon as trading started, spiked to $130.50 a barrel, the highest since July 2008. Maybe it was just one contract someone traded to get it over with and nail that number. But this came after discussions in Washington whether or not the US should ban the imports of Russian crude oil. After the crazy open, the price of WTI futures fell, eventually to $123 a barrel, still the highest since July 2008. And then they started rising again. Currently, WTI trades for around $126, also the highest since July 2008.
The reason the price spiked isn't because the US is suddenly running out of crude oil or anything, but because traders and algos smelled an opportunity and jumped on it, and drove up the price of those futures, and it's pure speculation, but that's what futures trading always is.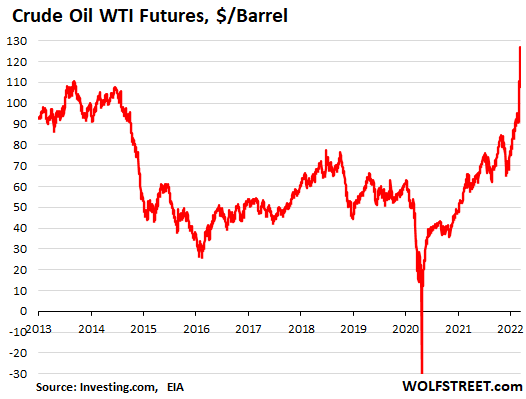 The US doesn't import much Russian crude and could do just fine without Russian crude – and that's why the import ban is even proposed. And if some buyers in the US actually buy Russian crude, it's simply another trade, like a gazillion others, but Russian crude is a big part of the gigantic complex global oil trade.
For example, California is cut off from other US producing regions because there's no pipeline across the Rockies. It produces some of its own crude oil and imports some crude oil from Alaska, and imports crude from the rest of the world. The local refineries, such as those in the Bay Area, buy this imported crude and refine it and export large quantities of gasoline, diesel, and jet fuel to Latin America, which is a huge profitable business.
…click on the above link to read the rest of the article…