Fed still printing money and repressing "real" interest rates to negative 6%, new vehicle prices spike by most since 1975, housing CPI jumps, food & energy soar.
The broadest Consumer Price Index (CPI-U) spiked 0.9% in October from September, and by 6.2% from a year ago, the highest since November 1990 (6.3%) and since 1982, according to data released by the Bureau of Labor Statistics today.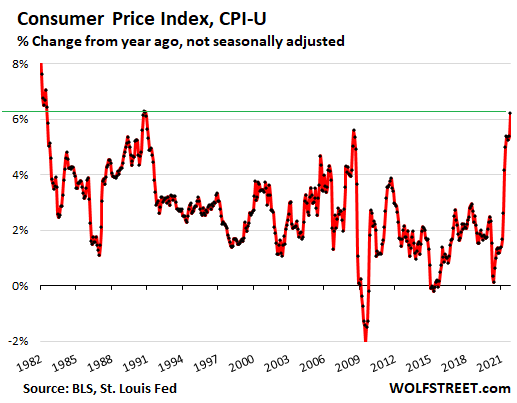 The Consumer Price Index for All Urban Wage Earners and Clerical Workers (CPI-W) spiked by 6.9% in October year-over-year, the highest since June 1982, nearly 40 years ago: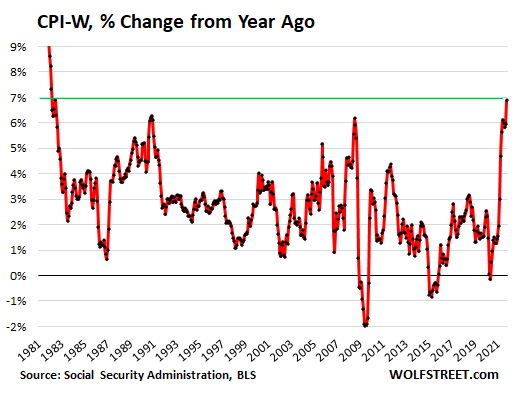 This CPI-W is the index upon which the Social Security COLAs are based, which are determined by the average during the third quarter. The Q3 average of 5.9% set the COLA for 2022 at 5.9%, the highest COLA since 1982, and there was some jubilation among beneficiaries a month ago. But now inflation is blowing right past that COLA.
As Atlanta Fed President Raphael Bostic pointed out, "transitory has become a dirty word." This massive inflation occurred while the Fed still had its foot fully on the accelerator – $120 billion a month in money printing and near-0% short-term interest rates, meaning "real" short-term rates are at negative 6.0%.
The Fed has been saying over and over again ad nauseam for seven months that inflation will slow down somehow on its own, even as the Fed had the foot fully on the accelerator, and every step along the way, the Fed has grossly underestimated the surge of inflation, and continues to do so. The Powell Fed has unleashed a monster.
Here is Fed Chair Jerome Powell's reaction to this inflation monster blowout, as captured by cartoonist Marco Ricolli for WOLF STREET: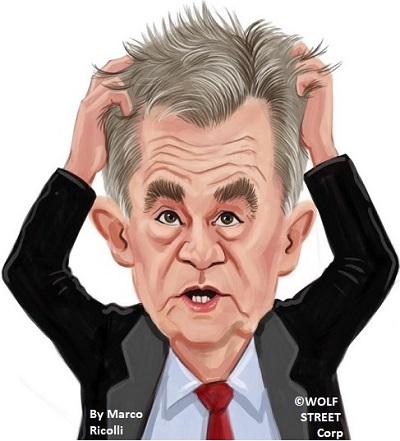 …click on the above link to read the rest of the article…