The point is the present system cannot endure.
Despite all the happy talk about "recovery" and higher growth, wages have gone nowhere since 2000–and for the bottom 20% of workers, they've gone nowhere since the 1970s.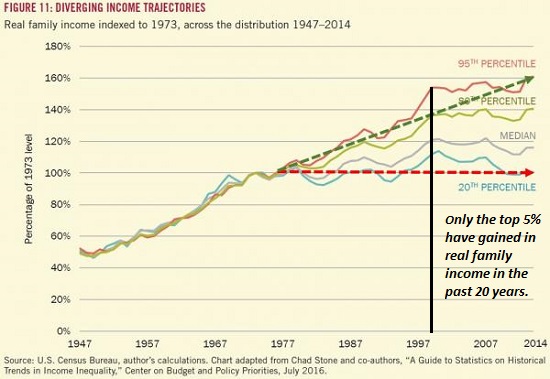 Gross domestic product (GDP) has risen smartly since 2000, but the share of GDP going to wages and salaries has plummeted: this is simply an extension of a 47-year downtrend.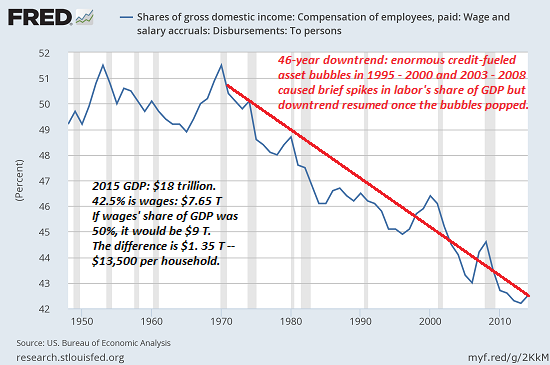 Our federal social programs–Social Security, Medicare and Medicaid–are pay-as-you-go: all the expenditures this year are paid by taxes collected this year. As I have detailed many times, the so-called "Trust Funds" are fictions; when Social Security runs a deficit, the difference between receipts and expenses are filled by selling Treasury bonds in the open market–the exact same mechanism ther government uses to fund any other deficit.
The demographics of the nation have changed in the past two generations. The Baby Boom is retiring en masse, expanding the number of beneficiaries of these programs, while the number of full-time workers to retirees is down from 10-to-1 in the good old days to 2-to-1: there are 60 million beneficiaries of Social Security and Medicare and about 120 million full-time workers in the U.S.
Meanwhile, medical expenses per person are soaring. Profiteering by healthcare cartels, new and ever-more costly treatments, the rise of chronic lifestyle illnesses–there are many drivers of this trend. There is absolutely no evidence to support the fantasy that this trend will magically reverse.
…click on the above link to read the rest of the article…