The future output from the light tight oil (LTO) sector of the US oil industry is the subject of much speculation. Above I present some possible future output scenarios based on a simple model of US LTO, the scenarios are compared with the EIA's 2017 Annual Energy Outlook (AEO) reference scenario with cumulative output of 82 Gb from 2001 to 2050. The cumulative output of the model scenarios is for the same period (2001-2050).
The models all use the same well profiles from 2006 to 2016 and are based on data gathered from Enno Peters excellent blog, shaleprofile.com. A preliminary hyperbolic profile was fit to the average LTO well data and then the parameters were fit using least squares and solver in Excel so that the model matched the data for output and number of wells added each month over the period from 2011 to 2015. The data for 2016 is incomplete and this leads to an under report of wells added for most of 2016 (from March through October). For this period the wells added were adjusted so that the model matched the output data from the EIA (which is more complete than the data reported at shaleprofile.com.)
The well profiles used are shown below, two were used, a lower profile for the early period and a higher well profile for the later period. The vertical axis is output in barrels per month and the horizontal axis is months from first output.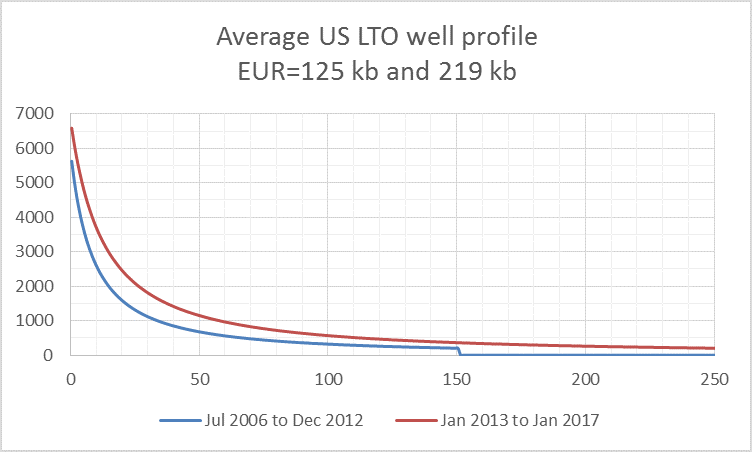 The well profile in red (219 kb) is the basis for all the scenarios. In every case it is assumed that the estimated ultimate recovery (EUR) or total output from the well over its life starts to decrease in Feb 2017, but the rate of decrease varies from model to model, based on underlying assumptions and the number of new wells added each month.
…click on the above link to read the rest of the article…