Long-term structural issues have long dogged these fuels. Then came the Pandemic.
During the holiday shopping and travel period in December and early January, ten months into the Pandemic, gasoline consumption in the US was down about 12% from a year ago, jet fuel consumption was down 38% from a year ago, but distillate consumption – diesel, heating oil, fuel oil – was about flat with a year ago. Consumption of all three combined, under the impact of long-term structural issues and then the Pandemic, were down to levels first seen in the mid-1990s.
As of the latest four-week period through January 1, gasoline consumption fell to 7.89 million barrels per day (mb/d), according to EIA data. This was below where it had been over the same period at the end of 1994 (8.04 mb/d). The chart also shows the long-term structural demand issues, where in the 12 years before the Pandemic, gasoline consumption, after a big drop during the Great Recession and then a recovery, had gone nowhere. This dynamic then got whacked by the changes in driving patterns during the Pandemic: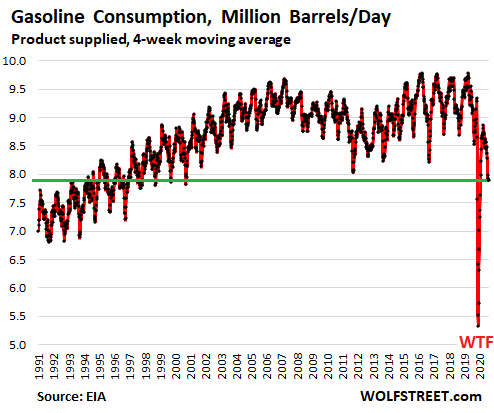 The EIA tracks consumption of fuel in terms of product supplied by refineries, blenders, etc., and not by retail sales at gas stations.
In March, demand for gasoline had collapsed as millions of people lost their jobs, and therefore didn't commute, and as others switched to work-from-home and therefore didn't commute either. In the four-week period ended April 24, average gasoline consumption plunged by 44% year-over-year, to 5.3 million mb/d, by far the lowest in the EIA's data going back to 1991.
Consumption in the latest four-week period through January 1 was still down 12% from a year ago. Since July, consumption has been down between 8% and 13% year-over-year:
…click on the above link to read the rest of the article…