All of the oil (C + C) production data for the US state charts comes from the EIA's Petroleum Supply monthly PSM. The charts below are updated to March 2021 for the 10 largest US oil producing states.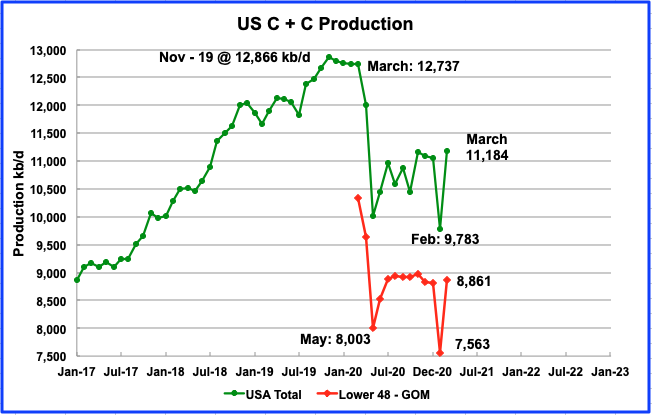 U.S. March production increased by 1,401 kb/d to 11,184 kb/d from February's output of 9,783 kb/d and was also 128 kb/d higher than January's. The increase was due to the rebound from the severe winter storm that hit the four US southern states, Texas, New Mexico, Louisiana and Oklahoma. Note that February's output of 9,862 kb/d in the previous report was revised down by 79 kb/d to 9,783 kb/d in the current report.
The May STEO report forecasted US March output would be 10,939 kb/d vs the reported actual output for March of 11,184, an under estimate of 245 kb/d. Note that March output was 57 kb/d higher than January.
In the onshore lower 48, March production increased by 1,298 kb/d, red graph. The 103 kb/d difference between the two was largely due to the 107 kb/d increase from the GOM.
Ranking Production from US States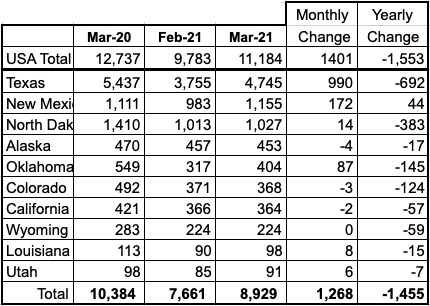 Listed above are the 10 states with the largest US production. These 10 accounted for (79.8%) of US production out of a total production of 11,184 kb/d in March 2021. 
Of these 10 states, Texas, New Mexico and Oklahoma had the biggest percentage output increases relative to February. On a YoY basis, all states except New Mexico had a lower output than last year. Note also that New Mexico surpassed North Dakota in output and moved into second place.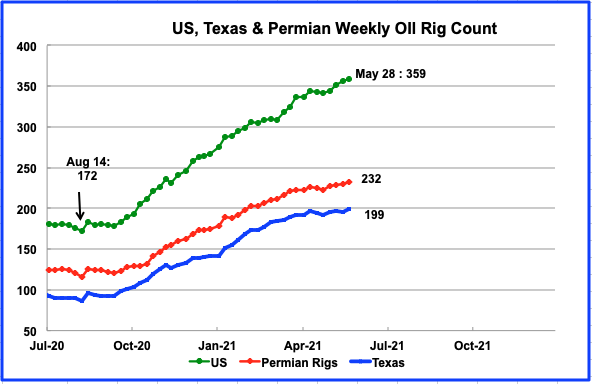 Rig additions continued in the US from the August low of 172 to 359 in the last week of May. Over the last month there is a hint of slowing in rig additions in Texas and the Permian.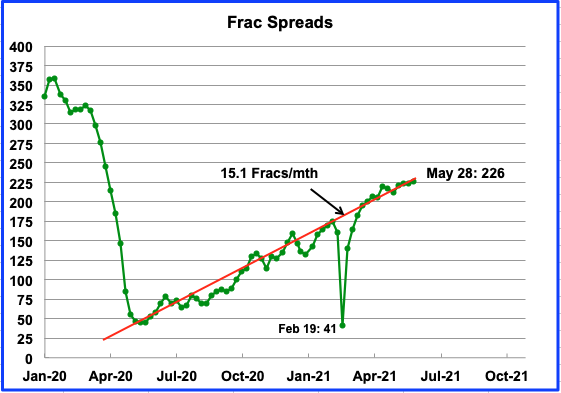 Frac spreads continue to increase at an average rate of close to 15.1/mth. 
…click on the above link to read the rest of the article…
Ovi  Bakken, Gulf of Mexico, Non-OPEC production, Texas, US Oil Production, peak oil barrel,