Natural gas prices are sharply up as cold weather is set to sweep much of the country, putting a strain on already low storage levels.
We are heading into the winter season with natural gas inventories at their lowest level in 15 years. Natural gas inventories stood at 3,143 billion cubic feet (Bcf) for the week ending on October 26, or about 623 Bcf lower than at this point last year and 638 Bcf below the five-year average.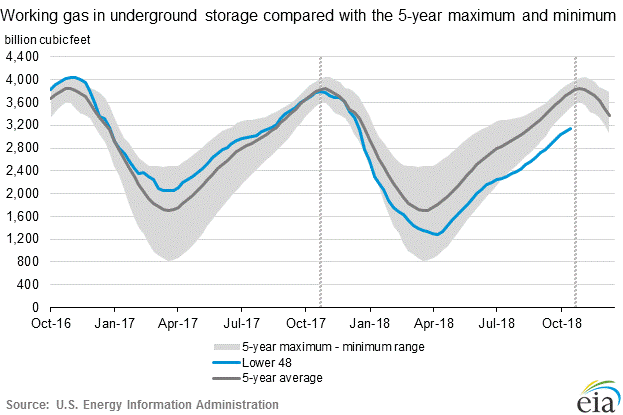 (Click to enlarge)
As the chart shows, natural gas inventories ebb and flow with the seasons – drawing down in the winter as American households crank up the heat, and rising again in warmer months as demand slows.
This year has been an interesting one for gas markets. U.S. production continues to break records, with surging output in the Marcellus and Utica shales, as well as skyrocketing gas production in West Texas as Permian drillers pull out gas along with crude oil.
However, higher levels of gas exports in the form of LNG, higher power burn in gas-fired power plants for electricity, and higher demand for gas in petrochemicals and other industrial uses have all led to structural increases in demand. Add to that the seasonal factors – hot temperatures this summer, which stretched into fall, and now, a coming blast of cold weather. In many parts of the country, autumn seemed a little shorter than usual, sandwiched between a long summer and a rapidly approaching winter.
Tight inventories and a bout of cold weather led Henry Hub natural gas prices to jump at the start of November by nearly 8 percent. In fact, prices jumped $0.28/MMBtu on November 5, the largest daily increase in two years. At $3.50 per million Btu (MMBtu), natural gas spot prices are up 15 percent in the past two months, and they are also at their highest level since last January.
…click on the above link to read the rest of the article…