After a mild start to the year, cold weather sweeping across western Germany, France, and the UK led to a surge in electricity prices on Tuesday.
French day-ahead power prices jumped to 135 euros a megawatt-hour, a 42% increase versus the rolling two-week average. The cause of the price spike is a surge in heating demand and delays in restarting nuclear plants.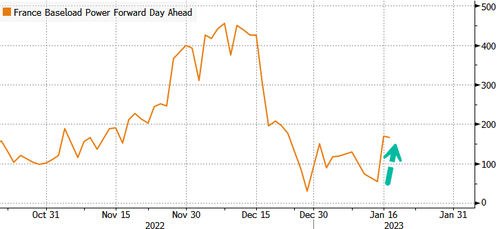 Day-ahead prices in Germany, Europe's largest economy, increased as much as 16% Tuesday.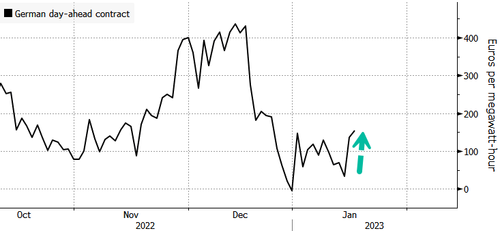 "Cold is expected to grip areas from the mid-continent to west, including in western Germany, France and the UK where average departures from normal range anywhere between 2-6 degrees Celsius below normal," Matthew Dross, a meteorologist at Maxar Technologies, told Bloomberg.
Dross said the cold spell "will increase heating demand for those regions to above normal levels."
Despite colder weather and increasing heating demand, Dutch front-month natural gas futures, Europe's benchmark, slid as much as 7.3% after rising 4.6%. Prices have clawed back some losses after tagging 16-month lows.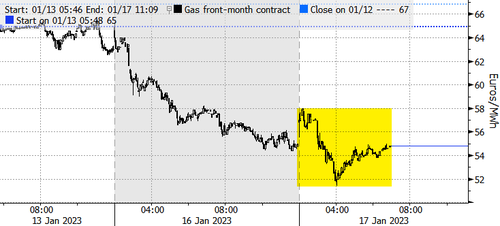 Mild temperatures are expected to return next week, denting demand once more. Morgan Stanley recently wrote that Europe's NatGas consumption in the year to October could be as low as 16% below the five-year average.
"Even if it makes gas-fired power plants increasingly competitive with coal-fired power plants, it does not lead to an increase in gas demand for power generation because" other cheaper power generation sources will be used first, Engie SA's EnergyScan wrote in a note.
*   *   *
Record warmth spread across Europe in the first half of January. Temperatures in the energy-stricken continent felt more like spring as several metropolitan areas recorded the warmest temperatures on record. Now a pattern shift is underway as parts of northwest Europe brace for a cold snap starting Monday.
…click on the above link to read the rest…