European natural gas prices have plunged to pre-Ukraine invasion levels on mild winter. Heating demand across the EU has declined, allowing fuel storage tanks to continue injections and remain above seasonal levels. This bodes well for the energy-stricken continent, but new weather forecasts suggest a late-month return to winter.
The benchmark Dutch TTF futures contract for February was down to 65.80 euros a megawatt-hour or more than 6% on the session. On the eve of Russia's invasion last February, the contract sold for about 88 euros.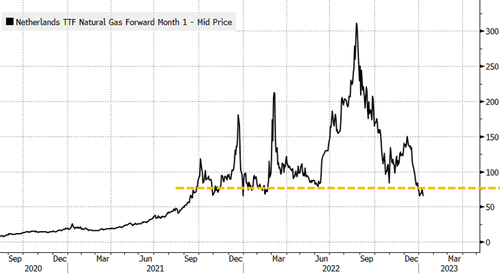 Several factors have allowed the EU to skirt around an energy crisis, including alternatives to Russian NatGas, such as increased imports of US LNG, widespread conservation efforts for residential and business customers, and a very mild winter.
NatGas stockpiles across the continent are well above a 12-year mean for this time of the year. The percentage of NatGas full has yet to fall from around 83% since Christmas.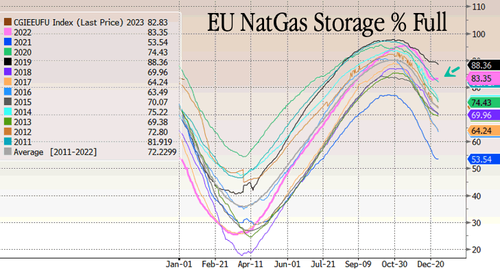 Meanwhile, new weather models are pointing to a possible flip back to colder temperatures next week for parts of Europe. Natgas traders will be focused on the severity of the cold and the impacts on heating demand.
The return of wintry conditions follows a record-warm start to the year, which provided relief from an energy crunch that has hammered Europe for months. The mild weather curbed demand for heating, allowing some countries to top up natural gas stockpiles at a time when they'd usually be tapping supplies.

Most of Britain will see below-average temperatures by the end of next week, with snow possible in northern areas, according to the country's Met Office. –Bloomberg
A few models show the possible cold snap for parts of the EU next week.
Colder temperatures could be arriving in North West EU in days.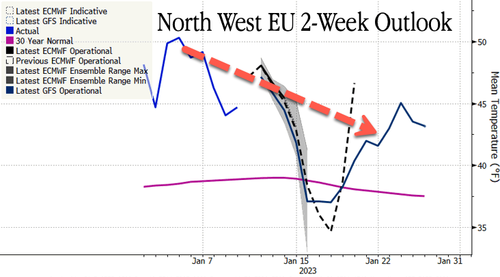 …click on the above link to read the rest…