Lithuania natural gas transmission operator Amber Grid told Reuters its pipeline that connects Lithuania to Latvia was rocked by an explosion on Friday.
Footage of the explosion emerged on Twitter in the last 30 minutes.
The location of the blast is in northern Lithuania. Amber Grid said an investigation is underway into the source of the explosion.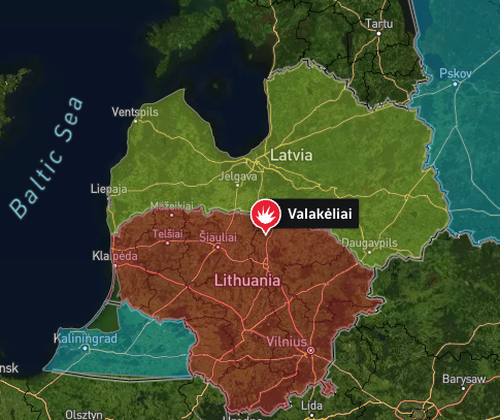 Baltic news agency BNS said police evacuated the entire town of Pasvalys, located in northern Lithuania, due to the situation.
"The gas transmission system in the area consists of two parallel pipelines, and initial data indicates that the explosion occurred in one of them," SKY News said.
Amber Grid's pipeline flows show where Natgas supplies have been halted.
The grid is an interconnected NatGas transmission system of four countries – Latvia, Belarus, Poland, Russia's Kaliningrad region, the Klaipėda LNG terminal, and the systems of Lithuania's gas distribution operators.
A statement from the grid operator read:
On Friday at around 5pm an explosion occurred in the Amber Grid gas pipeline in Pasvalys district. According to initial data, no people were injured. The explosion took place away from residential buildings. The fire is being extinguished by the fire brigades that immediately arrived on the scene.

The gas transmission system in this area consists of two parallel pipelines, and initial data indicate that the explosion occurred in one of them. The other pipeline was not damaged. The gas supply through the damaged pipeline was immediately interrupted, but the Pasvalys district consumers are already being supplied with gas through the adjacent pipeline. 

Nemunas Biknius, CEO of the gas transmission system operator Amber Grid, said: "We regret this incident in the gas pipeline system. We immediately started to investigate the circumstances of the incident and ensure gas supply to consumers…
…click on the above link to read the rest…