All kinds of weird records are being broken. But it's scheduled to expire, and then what?
The New York Fed released a doozie of a household credit report. It summarized what individual lenders have been reporting about their own practices: If you can't make the payments on your mortgage, auto loan, credit card debt, or student loan, just ask for a deferral or forbearance, and you won't have to make the payments, and the loan won't count as delinquent if it wasn't delinquent before. And even if it was delinquent before, you can "cure" a delinquency by getting the loan deferred and modified. No payment, no problem.
Nearly all student loans go into forbearance, delinquencies plunge.
Student loan borrowers were automatically rolled into forbearance under the CARES Act, and even though many students had stopped making payments, delinquency rates plunged because the Department of Education had decided to report as "current" all those loans that are in forbearance, even if they were delinquent. Yup, according to New York Fed data, the delinquency rate of student loan borrowers, though many had stopped making payments, plunged from 10.75% in Q1, to 6.97% in Q2, the lowest since 2007: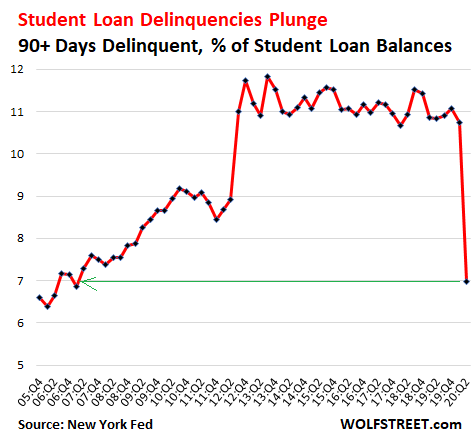 Student loan forbearance is available until September 30, and interest is waived until then, instead of being added to the loan. In a blog post, the New York Fed said that 88% of the student-loan borrowers, including private-loan borrowers and Federal Family Education Loan borrowers, had a "scheduled payment of $0," meaning that at least 88% of the student loans were in some form of forbearance. Until September 30. And then what?
Delinquent loans are "cured" without catch-up payments.
…click on the above link to read the rest of the article…