Home » Posts tagged 'forbearance'
Tag Archives:
forbearance
All kinds of weird records are being broken. But it's scheduled to expire, and then what?
The New York Fed released a doozie of a household credit report. It summarized what individual lenders have been reporting about their own practices: If you can't make the payments on your mortgage, auto loan, credit card debt, or student loan, just ask for a deferral or forbearance, and you won't have to make the payments, and the loan won't count as delinquent if it wasn't delinquent before. And even if it was delinquent before, you can "cure" a delinquency by getting the loan deferred and modified. No payment, no problem.
Nearly all student loans go into forbearance, delinquencies plunge.
Student loan borrowers were automatically rolled into forbearance under the CARES Act, and even though many students had stopped making payments, delinquency rates plunged because the Department of Education had decided to report as "current" all those loans that are in forbearance, even if they were delinquent. Yup, according to New York Fed data, the delinquency rate of student loan borrowers, though many had stopped making payments, plunged from 10.75% in Q1, to 6.97% in Q2, the lowest since 2007: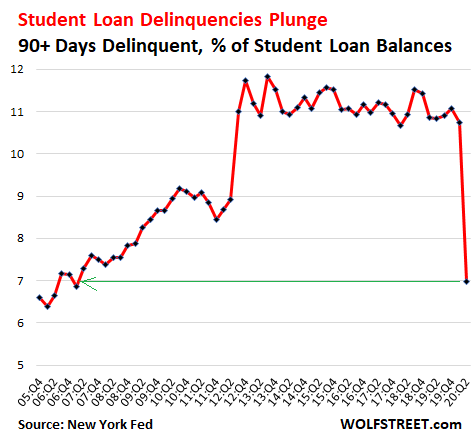 Student loan forbearance is available until September 30, and interest is waived until then, instead of being added to the loan. In a blog post, the New York Fed said that 88% of the student-loan borrowers, including private-loan borrowers and Federal Family Education Loan borrowers, had a "scheduled payment of $0," meaning that at least 88% of the student loans were in some form of forbearance. Until September 30. And then what?
Delinquent loans are "cured" without catch-up payments.
…click on the above link to read the rest of the article…
"Extend and Pretend" forevermore.
This is the transcript of my podcast last Sunday, THE WOLF STREET REPORT. You can listen to it on YouTube, and you can find it on Apple Podcasts, Spotify, Stitcher, Google Podcasts,  iHeart Radio, and others.
Until a few months ago, most Americans didn't even know what "forbearance" was. Now, roughly four million home mortgages, or about 8% of all home mortgages, are in forbearance. Those four million households with mortgages in forbearance might still not fully understand what forbearance is, but they know one thing: They don't have to make mortgage payments for a while, and they get to spend that money on other things instead of sending it to the bank.
There are forbearance deals offered by lenders for credit cards and auto loans. I don't owe any balances on my credit cards and I don't have an auto loan, but my inbox gets blasted with offers of forbearance anyway, by every bank I do business with.
My WOLF STREET media mogul empire too. It's just a tiny business, and it doesn't owe any money, but sure enough, my bank is offering "assistance" with those debts that my business doesn't have.
When a lender agrees to grant the borrower forbearance, the lender agrees to not exercise its rights when the borrower doesn't make the loan payments. There is an agreement both parties sign, and this forbearance agreement determines, among other things, the period of forbearance, and what happens afterwards. And afterwards those missed payments will have to be made up somehow. Forbearance is not forgiveness.
But a forbearance agreement can be extended, if both parties agree to do so. In banker's lingo, it's called "extend and pretend."
…click on the above link to read the rest of the article…