Tapered QE-4 Further, Still Hasn't Bought Junk Bonds or ETFs, Was Just Jawboning.
Total assets on the Fed's balance sheet rose by $205 billion during the week ending April 22, to $6.57 trillion. Since the week ending March 11, when the bailout of the Everything Bubble and its holders began, the Fed has printed $2.26 trillion.
But the $205 billion increase was the smallest increase since the mega-bailout began with its Sunday March 15 announcement. The Fed is tapering its purchases of Treasury securities and mortgage-backed securities (MBS). Repurchase agreements (repos) are falling into disuse. Lending to Special Purposes Vehicles (SPVs) has leveled off. And foreign central bank liquidity swaps, after having spiked initially, only ticked up by a small-ish amount.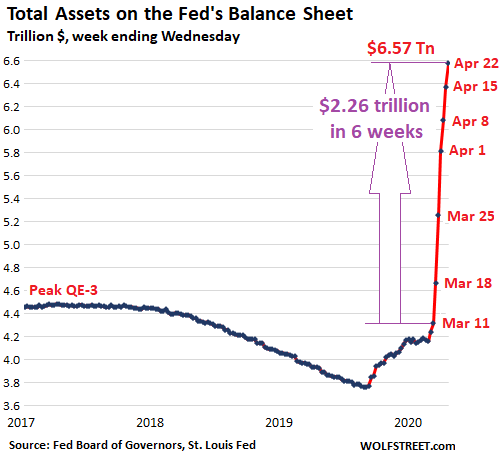 The sharply reduced increases confirm that the Fed is following its various announcements over the past two years that during the next crisis – namely now – it would front-load the bailout QE and after the initial blast would then taper it out of existence, rather than let it drag out for years.
This concept was further confirmed by Fed Chair Jerome Powell on April 10 when he said that the Fed would pack away its emergency tools when "private markets and institutions are once again able to perform their vital functions of channeling credit and supporting economic growth."
Overall, the Fed has cut the big QE purchases by 65% since the peak week (week ending April 1, $586 billion), to $205 billion: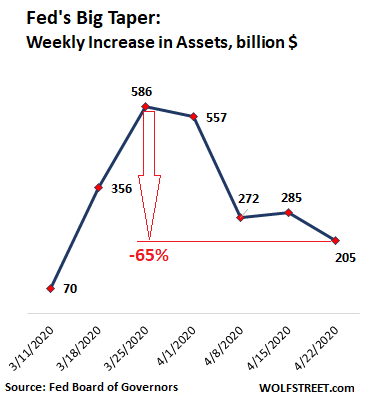 Purchases of Treasury securities get slashed.
The Fed added $120 billion of Treasury securities to its balance sheet, the smallest amount since this began, down 67% from the $362 billion it had added during the peak week: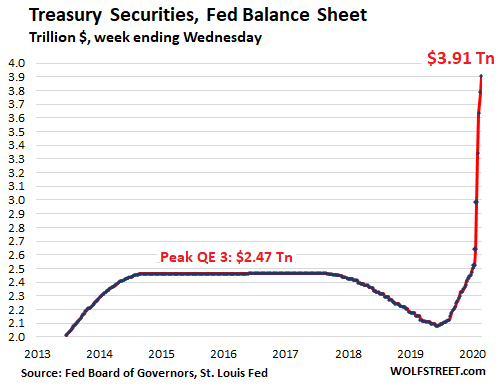 …click on the above link to read the rest of the article…