The general view in inflation is dead, essentially forever. Maybe. Maybe not.
We all know real-world inflation for big-ticket expenses is far above the official rate of around 2% annually.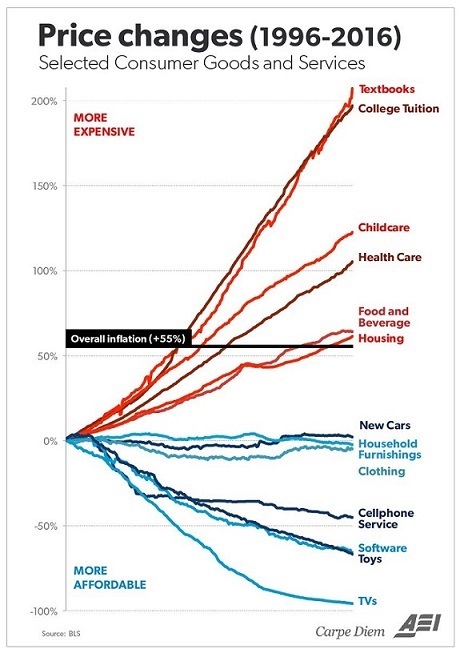 Yet conventional economists are virtually unanimous that deflation is the danger and inflation is a "good thing" we need to spur so servicing existing debt becomes easier for debtors.
Due to the deflationary pressures of technology and stagnant wages for the bottom 90%, the consensus sees low inflation as far as the eye can see.
When the consensus is near-100% on one side of the boat, we can safely bet Reality will not conform to expectations. This leads to a question: what could cause official near-zero inflation to surprise the consensus and leap higher?
One possible answer is "helicopter money": money created by central banks that is distributed directly to households via tax rebates, debt forgiveness, or Universal Basic Income (UBI).
For the past 17 years, central banks have funneled credit and liquidity into the banks at the top of the wealth-power pyramid. Very little of this new "wealth" has trickled down to the bottom 90% of households in the real economy who have seen their earnings stagnate and their costs rise.
Now that debt and essentials are absorbing much of the bottom 90%'s earnings, there's little fuel left for additional debt-based consumption. This is why we see auto sales plummeting.
The only way the central banks/states can fuel more debt and spending is to drop "helicopter money" directly into the consumers' checking accounts.
Once they do this, the "new money" goes directly into the real economy. This is quite different than the past 17 years of monetary stimulus that went mostly into assets owned by the wealthy.
There's another driver of inflation: shortages of essential commodities. I define inflation very simply: a loss of purchasing power, which means we are paying more money for the exact same good or service.
…click on the above link to read the rest of the article…