The Fed's charter prohibits its from directly purchasing bonds or bills issued by the US Treasury: that process is also known as monetization and various Fed chairs have repeatedly testified under oath to Congress that the Fed does not do it. Of course, the alternative is what is known as "Helicopter Money", when the central bank directly purchases bonds issued by the Treasury and forms the backbone of the MMT monetary cult.
But what if there is at a several day interval between Treasury issuance and subsequent purchase? Well, that's perfectly legal, and it's something the Fed has done not only during QE1, QE2 and QE3, but is continuing to do now as part of its "QE4/NOT QE."
Here's how.
On December 16, the US Treasury sold $36 billion in T-Bills with a 182-day term, maturing on June 18, 2020, with CUSIP SV2. And, as shown in the Treasury Direct snapshot below, of the total $34.3 billion in competitive purchases, Dealers acquired $23.7 billion.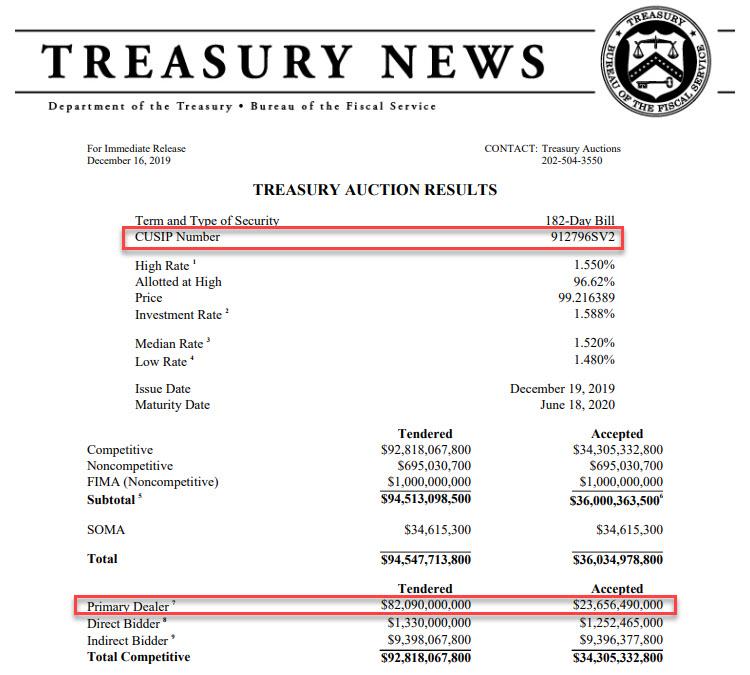 What happened next?
For the answer we go to the Fed's POMO page, which shows which specific T-Bill CUSIPs were purchased by its markets desk on any given POMO day when Dealers sell up to $7.5 billion in Bills to the Fed.
Exhibit 1: on December 19, just three days after the above T-Bill was issued and on the very day the issue settled (Dec 19), Dealers flipped the same Bills they bought from the Treasury back to the Fed for an unknown markup. Specifically, of the $7.5BN in total POMO, the SV2 CUSIP which had been issued earlier that week, represented the biggest bond "put" to the Fed, amounting to $3.9 billion, more than half of the total POMO on that day, and by far the most of any CUSIP sold to the NY Fed's markets desk on that day.