Fed shed MBS. Loans to "SPVs" flat for fifth week. Repos in disuse. Fed still hasn't bought junk bonds, stocks, or ETFs. But it sure sent Wall Street dreaming.
Total assets on the Fed's balance sheet rose by only $83 billion during the week ending April 29, to $6.656 trillion. That $83 billion was the smallest weekly increase since this show started on March 15, and down by 86% from peak-bailout in the week ended March 25. This chart shows the weekly increases of total assets on Fed's balance sheet: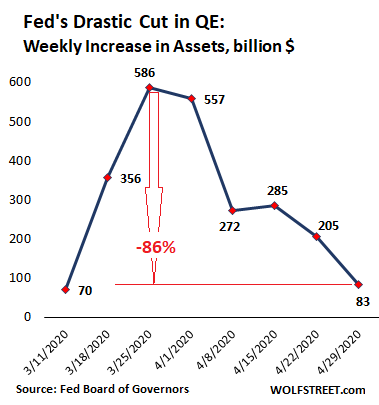 The Fed is thereby following its playbook laid out over the past two years in various Fed-head talks that it would front-load the bailout-QE during the next crisis, and that, after the initial blast, it would then cut back these asset purchases when no longer needed, rather than let them drag out for years.
On January 1, the balance sheet stopped expanding as the Fed's repo market bailout had ended. However, in late February, all heck was breaking loose, and the Fed first increased its repo offerings and then on March 15, started massively throwing freshly created money at the markets, peaking with $586 billion in the single week ended March 25.
But since then, the Fed has slashed its weekly increases in assets, which shows up in the flattening curve of the Fed's total assets in 2020: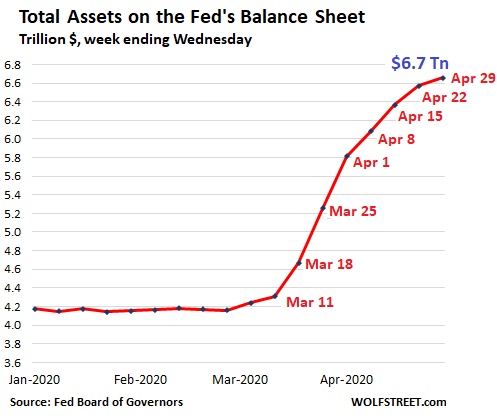 The Fed cut its purchases of Treasury securities. The balance of its mortgage-backed securities (MBS) actually fell. Repurchase agreements (repos) have fallen into disuse. Lending to Special Purpose Vehicles (SPVs) has not gone anywhere in five weeks. And foreign central bank liquidity swaps, after spiking in the first two weeks, only rose modestly, with most of the increase coming from the Bank of Japan, which is by far the largest user of those swaps.
…click on the above link to read the rest of the article…