Home prices fell in Vancouver, Ottawa, and Montreal; were flat in Toronto, other cities for the first time since 2019.
So this is something that hasn't happened in the Canadian housing market since 2019: The Teranet-National Bank House Price Index for October, released today, failed to rise from the prior month.
The index for Vancouver, a red-hot housing market, fell for the second month in a row, something the market hasn't seen since September 2019. The indices for Ottawa and Montreal also fell. The index for Toronto was flat for the month, as were the indices for some of the other cities.
What has changed that caused this "pause," as it is now being called, in one of the biggest housing bubbles in the world?
The Bank of Canada got hawkish.
For a year now, the BoC has repeatedly cited the craziness in the Canadian housing market – a historic spike in home prices – the result of the BoC's crazy asset purchases and interest rate repression.
The BoC started tapering its purchases of securities a year ago by ending its MBS purchases and tapering its purchases of Government of Canada bonds. It then shed nearly all its repos and short-term Canada Treasury bills, ended other smaller programs, and tapered its GoC bond purchases multiple times. Then in October, a suddenly hawkish Bank of Canada ended QE entirely and surprised markets by moving the next rate hikes forward. Meanwhile, inflation in Canada hit an 18-year high.
Total assets on the BoC's balance sheet, as of last week, fell to C$496 billion, down 14% from the peak in March.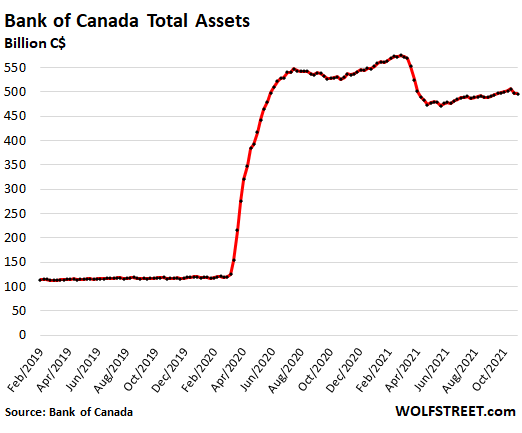 …click on the above link to read the rest of the article…