Last Wednesday, before the Fed "unexpectedly" cut its IOER rate by 5bps o 2.35%, we warned that the "Fed Loses Control Of Rates" when pointing out the ongoing divergence of the effective fed funds rate from the Overnight Repo – IOER rate corridor.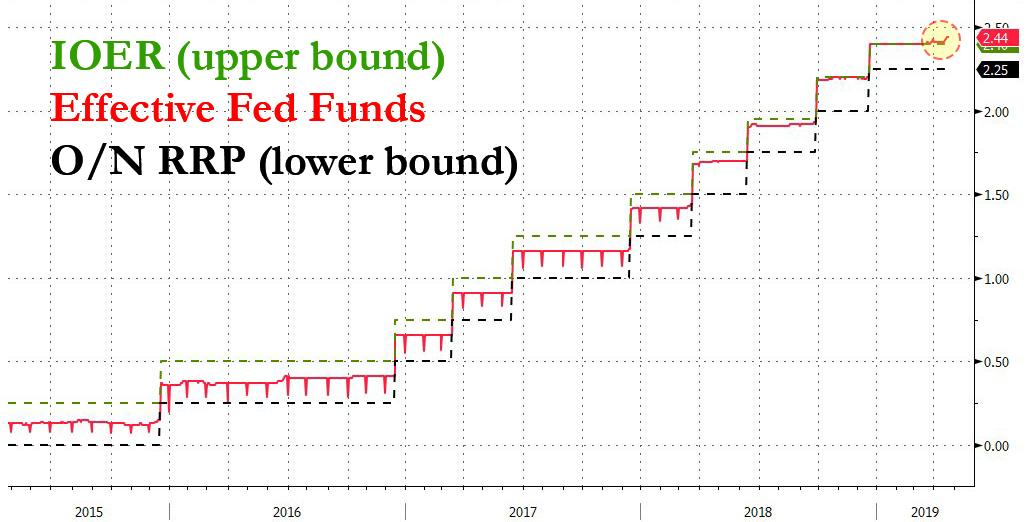 Now, one week later and following the Fed's admission that even it was surprised by how quickly the overnight funding market plumbing had gotten clogged up, others are starting to ask the very question we posed a week ago.
In a note published overnight by Rabobank's Phillip Marey, the US strategist – just like us – asks "Is the Fed losing control of the policy rate system?" Needless to say, the answer could have profound implications not only for the future of US monetary policy, but whether or not the dollar can remain as the world's reserve currency in a world in which the US central bank loses the ability to set the price of money.
Here's Marey's full note:
The pause continues
The FOMC statement noted that economic activity rose at a solid rate, but repeated that household spending and business fixed investment slowed in the first quarter. The Fed repeated that job gains have been solid, on average, in recent months, and dropped the reference to the weak February nonfarm payroll figure. The Fed also noted that core inflation has declined and is running below 2%. At the press conference, Powell said that the data are not pushing the FOMC in either direction. The Committee does not see a strong case for a rate move either way.
…click on the above link to read the rest of the article…