After a surprise UK visit, Ukraine's President Zelensky went to Paris immediately afterward in a whirlwind European tour to meet with Western leaders. In Paris he held talks with French President Emmanuel Macron and German Chancellor Olaf Scholz
Macron asserted during the visit that Russia cannot win the war against Ukraine. "Ukraine can count on France, its European partners and allies to win the war. Russia cannot and must not win," Macron said before a working dinner among the three leaders at the Elysee Palace.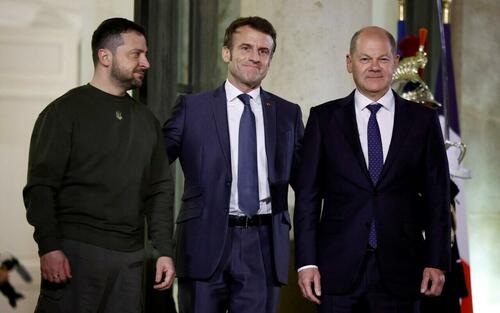 Just ahead of the meeting, Zelensky in an interview with Le Figaro hailed a change of heart in Macron. "I think he has changed, and changed for real this time," Zelensky said. "After all, it is he who paved the way for the delivery of tanks. And he has also supported Ukraine's membership to the EU. I think that was a real signal."
Macron had angered Kiev when in June he said the West must not "humiliate Russia, so that when the fighting stops we can build an exit ramp through diplomatic means." 
Macron has also come under fire for being among the only Western leaders to hold frequent phone conversations with President Vladimir Putin, in order to attempt a diplomatic breakthrough towards ending the war. But Ukrainian leaders have suggested such diplomatic efforts are a form of 'capitulation'.
As for Macron's slow pivot away from pursuing a diplomatic offramp, the Associated Press now describes:
Macron has said France hasn't ruled out sending fighter jets but set conditions, including not leading to an escalation of tensions or using the aircraft "to touch Russian soil," and not resulting in weakening "the capacities of the French army."
…click on the above link to read the rest…