Days after he warned NATO of the likelihood of nuclear war if Russia is defeated in Ukraine, former Russian president and current deputy chairman of the security council Dmitry Medvedev on Monday said the world stands on the brink of World War III due to US and Western aggression against Russia.
"The world has come close to the threat of World War III due to impending US aggression against the Russian Federation," Medvedev said in comments first reported by Sky News Arabia. He also emphasized he sees the conflict at a point of no return. "There are no conditions for negotiations between Russia and Ukraine now, either de facto or de jure," Medvedev said.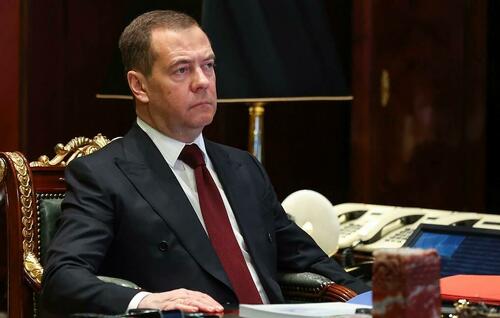 On the same day, Russian Foreign Minister Sergey Lavrov voiced something similar, saying the confrontation with NATO can no longer be seen as merely a "hybrid war" or proxy war, but is instead fast approaching a real one. He said this in a joint press conference with his South African counterpart, Naledi Pandor
Lavrov explained that this "almost real" – as he put it according to state media, was something the West "has been preparing for a long time against Russia."
He further charged that Ukraine's leadership has created "presidents of war" and "Russophobic leaders" – particularly in reference to Present Zelensky and before him Petro Poroshenko.
Russian presidential spokesman Dmitry Peskov additionally sounded the alarm in separate Monday remarks, saying that the current rush to supply Western-made tanks to the battlefield will severely escalate the conflict. "The Ukrainian people will pay the burden of this so-called support," he said.
Peskov also highlighted that it's clearly creating tensions and division among allies, noting that if the tank plan proceeds, "All countries that directly or indirectly ship weapons to Ukraine are responsible for this."
…click on the above link to read the rest…