Thanks to the revelations in the Twitter Files, there's evidence that the FBI and other agencies worked to suppress "lawful speech," and if this type of action is allowed to continue, the United States is headed for "totalitarian state territory," Matthew Peterson, the cofounder of New Founding, said in an interview with Epoch Times–NTD collaborative program "Newsmakers."
New Founding helps people and organizations position themselves to avoid threats from Big Tech and "woke capital," and Peterson has two decades of experience in digital media and political consulting.
When asked what will happen if the country's current trajectory continues for three to five years, Peterson said, "We'll be in totalitarian state territory, there's no question about it."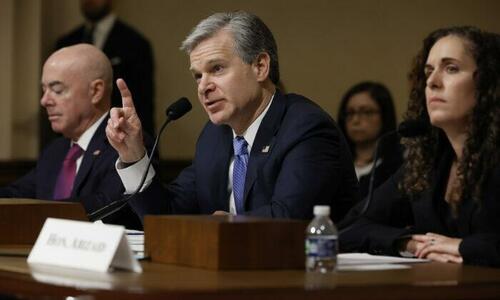 FBI Director Christopher Wray (C) on Capitol Hill in Washington, on Nov. 15, 2022. (Chip Somodevilla/Getty Images)
"I mean, remember, this went so far as the government saying, 'You need to find evidence that there are Russians influencing the election on Twitter.' And Twitter saying, 'No, that's not happening.'
"And then [Twitter had] to be quiet about it and not even defend themselves when they knew that there wasn't Russian interference that they could find," he added.
Peterson further explained that the U.S. government drove a narrative that it knew wasn't true and was the "antithesis" of America's founding principles.
"[The government's actions are] the antithesis of America. The American founding is basically contradicted by what's happening here, over and over again. And if we don't do something about that, we will not have free speech in this country," Peterson warned.
FBI and Fake News
Peterson pointed out that one of the biggest revelations in the Twitter Files—a collection of internal emails and communications made public by the company's CEO, Elon Musk—was that the intelligence community's influence on Twitter was more significant than anyone imagined.
…click on the above link to read the rest…