European natural gas and electricity prices jumped as Western corporate media continued to drum up headlines of an imminent Russian invasion of Ukraine that could spark World War 3.
Benchmark European gas prices rose more than 10% to 84 euros a megawatt-hour, the highest in weeks. German power prices also moved higher.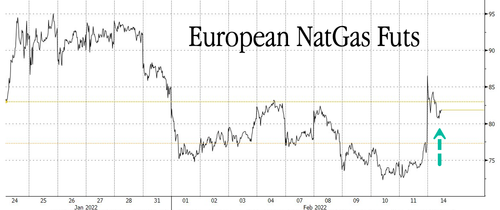 Europe's energy crunch is set to worsen if tensions in the region deteriorate. Russian gas supply is already low as storage facilities are well below average for this time of year (this means gas supplies will remain tight through spring). The risk of rolling blackouts across the continent increase if Russia cuts off gas to Europe.
"The immediate focus is on the potential for a disruption in Russian energy supplies to Europe, which would be very difficult to deal with, and could create a true energy shortage even beyond the challenge that we're already seeing," said Jason Bordoff, director of the Center on Global Energy Policy at Columbia University. "But before that, Europe was already in an energy crisis."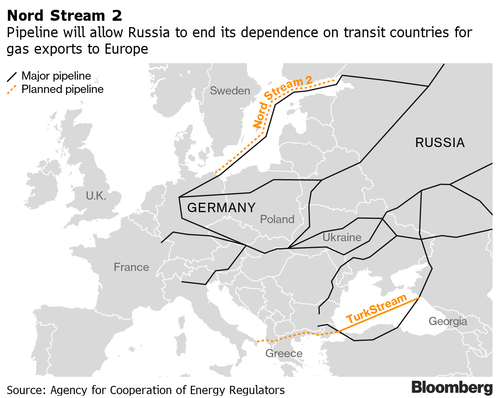 According to monthly auction results on Monday, Russian supplier Gazprom PJSC didn't book additional pipeline capacity for March to send gas to Germany via the Yamal-Europe pipe. Gas flows through Ukraine into Europe are also far below contractual volumes.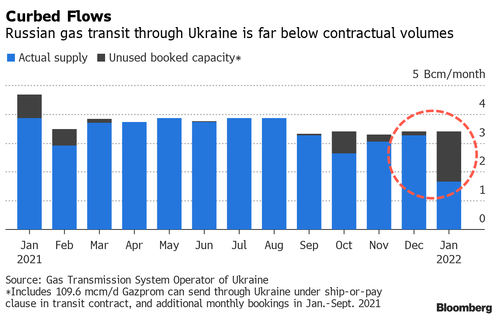 On Monday, Fatih Birol, the head of the International Energy Agency, told attendees at a conference in Cairo that politicizing gas in Europe is not a good idea because it translates to higher prices for consumers. Already, the UK has capped energy prices for households to mitigate further soaring costs.
…click on the above link to read the rest of the article…