The fracking bust that is following the phenomenal fracking boom is deepening relentlessly, week after week, and there is still no respite in sight.
Drilling activity peaked in October last year, when 1,606 rigs were drilling for oil, with a four-month lag behind oil prices. But by October it was clear that the oil-price plunge wasn't a blip, and in November oil fell off the chart. It was then that the industry reacted with vertigo-inducing rapidity. And the number of rigs drilling for oil, which Baker Hughes publishes every Friday, began to plummet.
In the latest reporting week reported Friday, drillers idled an additional 34 oil rigs. Now only 1,019 rigs are still drilling for oil, down 590 rigs from the October peak, a 37% plunge in 19 weeks. The steepest rig-count plunge in the data series.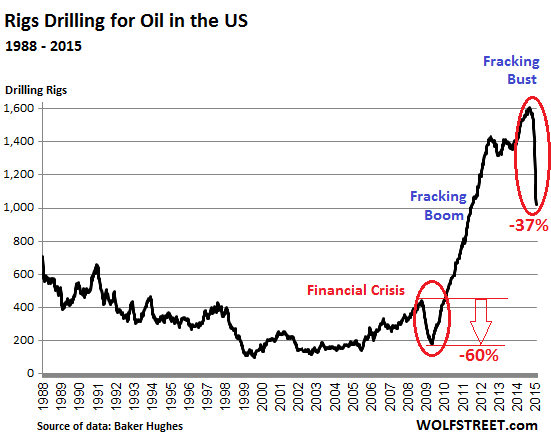 But drillers have to service their mountain of debt with which the fracking boom was funded. They can't afford to cut production. To stay alive, they cut operating cost and capital expenditures, and they're laying people off. But they focus their remaining resources on the most productive plays, using the most efficient technologies, with a single-minded focus on raising production while spending less.
The hope is that this strategy will get them through the oil bust if it doesn't last too long. But because everyone is thinking in those terms, US production overall continues to rise – it averaged an estimated 9.2 million barrels per day in January.
…click on the above link to read the rest of the article…