After Wednesday's JMMC meeting ended without reaching a recommendation (as is customary and expected), the key decision-making OPEC+ meeting – where ministers will hammer out May's output quotas – begins at 1pm London Time. As Newsquawk notes, market expectations are skewed towards an extension of current cuts, but a clear stance from Saudi – who have a tendency to surprise in recent months – remains to be seen, namely on the decision regarding the extra 1MM barrels the Kingdom has kept offline since the start of the year.
Commenting on today's key event, Bloomberg's Jake Lloyd-Smith reminds us that Saudi Arabia has sprung some big surprises in the oil market already this year, and may do so again today as OPEC+ grapples with a thorny decision on supply. That could make for a volatile session before the long weekend, and already has with oil whipsawing from gains to losses in jittery trading, amid market rumors that OPEC+ is i) considering a return to phased monthly oil-output hikes and ii) is also considering maintaining current cuts, according to a delegate… which pretty much covers every base so is completely useless.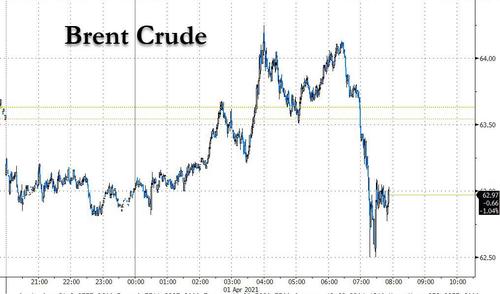 As such, while the consensus view is the grouping will stick with deep output curbs to safeguard crude's recovery, there's an outside chance of alternative outcomes. These span the twin extremes, from releasing barrels to tightening further.
At issue is the varied recovery across key regions. For every rosy demand metric from the U.S. or China, there's a poor one from Europe as lockdowns make a comeback. In addition, Riyadh faces a headache from rival Iran, which has been pushing clandestine barrels into China despite U.S. sanctions…
…click on the above link to read the rest of the article…
opec+, oil and gas industry, zerohedge, saudi arabia, russia, iran, china, united states, economic sanctions, oil, oil price, bloomberg