Central banks getting nervous about the Fed's drunken Money Printing and the US Government's gigantic debt? But still leery of the Chinese renminbi.
The global share of US-dollar-denominated exchange reserves dropped to 59.0% in the fourth quarter, according to the IMF's COFER data released today. This matched the 25-year low of 1995. These foreign exchange reserves are Treasury securities, US corporate bonds, US mortgage-backed securities, US Commercial Mortgage Backed Securities, etc. held by foreign central banks.
Since 2014, the dollar's share has dropped by 7 full percentage points, from 66% to 59%, on average 1 percentage point per year. At this rate, the dollar's share would fall below 50% over the next decade: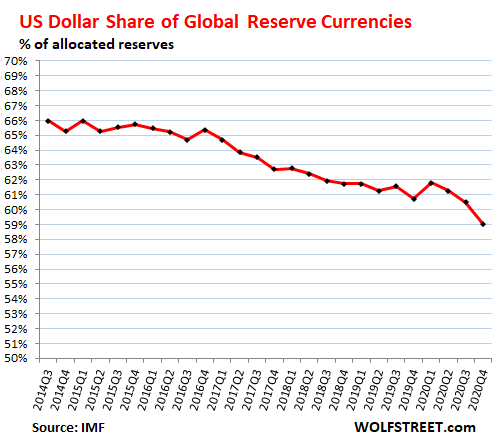 Not included in global foreign exchange reserves are the Fed's own holdings of dollar-denominated assets, its $4.9 trillion in Treasury securities and $2.2 trillion in mortgage-backed securities, that it amassed as part of its QE.
The US dollar's status as the dominant global reserve currency is a crucial enabler for the US government to keep ballooning its public debt, and for Corporate America's relentless efforts to create the vast trade deficits by offshoring production to cheap countries, most prominently China and Mexico. They're all counting on the willingness of other central banks to hold large amounts of dollar-denominated debt.
But it seems, central banks have been getting just a tad nervous and want to diversify their holdings – but ever so slowly, and not all of a sudden, given the magnitude of this thing, which, if mishandled, could blow over everyone's house of cards.
20 years of decline.
…click on the above link to read the rest of the article…
wolfstreet, wolf richter, us dollar, world reserve currency, central banks, money printing, fed, us federal reserve, money, us debt, debt, united states