GDP fell by 3.5% in the year 2020, the worst annual decline since 1946. Trade deficit in Q4 hit new all-time worst.
The size of the US economy, as measured by GDP in "current dollars" (not adjusted for inflation), fell to $20.9 trillion in the year 2020, according to the Bureau of Economic Analysis this morning.
In the discussion below, you will see inflation-adjusted figures, with adjustments being made based on "2012 dollars." In these 2012 dollars, GDP fell by 3.5% in the year 2020, the worst annual decline since 1946 (when it plunged by 11.6%).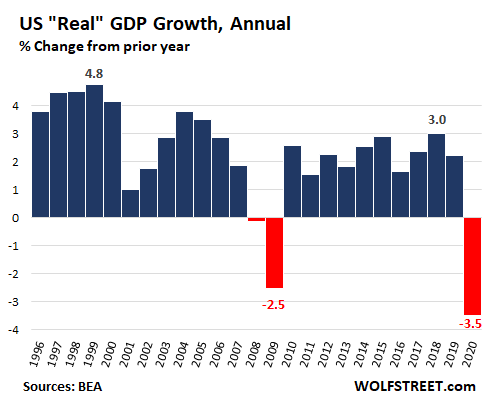 In the fourth quarter, GDP grew by 1.0% from the third quarter, adjusted for inflation (but not "annualized"), which left Q4 GDP still down 2.5% from a year ago.
The plunge in Q2 and the jump in Q3 were the sharpest moves ever in the quarterly GDP data, which began in 1947. Before then, there were only annual data. Q4 growth, at 1% (green column), is back in the normal quarterly growth range over the past two decades: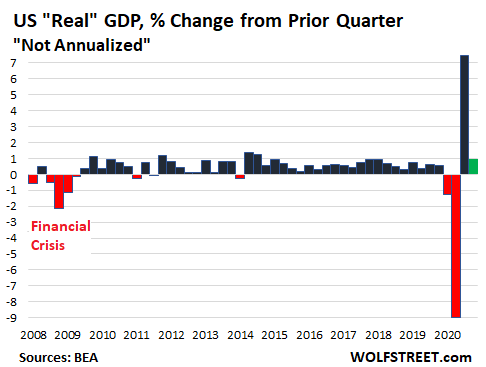 In the headlines this morning, you saw "4%" GDP growth for Q4, which was an "annualized" figure, meaning Q4 growth (1.0%) multiplied by four to project what the growth would be if it continues for an entire year at the same rate, which is kind of silly, but that's what "annualized" growth rates do. And they sure make things look bigger.
Adjusted for inflation via these infamous "2012 dollars," GDP in Q4 amounted to a "seasonally adjusted" "annual rate" of $18.8 trillion, same where it had been in Q4 2018: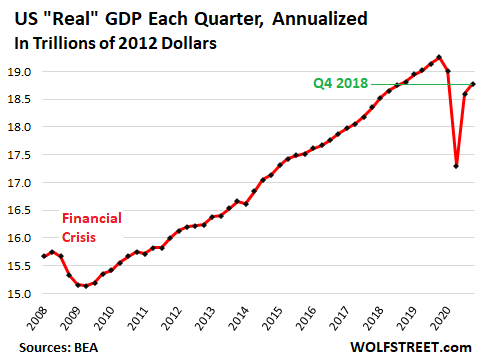 Consumer spending (69.5% of GDP) edged up just 0.6% in Q4 from Q3 to an annual rate of $13.0 trillion in 2012 dollars. And it was still down 2.6% from Q4 last year:
Spending on goods eased a smidgen from Q3, to $5.1 trillion (annual rate).
Spending on services rose 1.0% from Q3 to $8.0 trillion (annual rate).
…click on the above link to read the rest of the article…