It takes thousands of years for soils to form, meaning protection is needed urgently, say scientists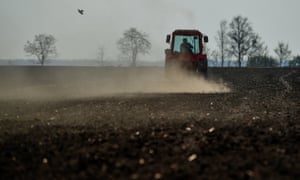 Global soils are the source of all life on land but their future looks "bleak" without action to halt degradation, according to the authors of a UN report.
A quarter of all the animal species on Earth live beneath our feet and provide the nutrients for all food. Soils also store as much carbon as all plants above ground and are therefore critical in tackling the climate emergency. But there also are major gaps in knowledge, according to the UN Food and Agriculture Organization's (FAO) report, which is the first on the global state of biodiversity in soils.
The report was compiled by 300 scientists, who describe the worsening state of soils as at least as important as the climate crisis and destruction of the natural world above ground. Crucially, it takes thousands of years for soils to form, meaning urgent protection and restoration of the soils that remain is needed.
The scientists describe soils as like the skin of the living world, vital but thin and fragile, and easily damaged by intensive farming, forest destruction, pollution and global heating.
"Soil organisms play a crucial role in our everyday life by working to sustain life on Earth," said Ronald Vargas, of the FAO and the secretary of the Global Soil Partnership.
…click on the above link to read the rest of the article…