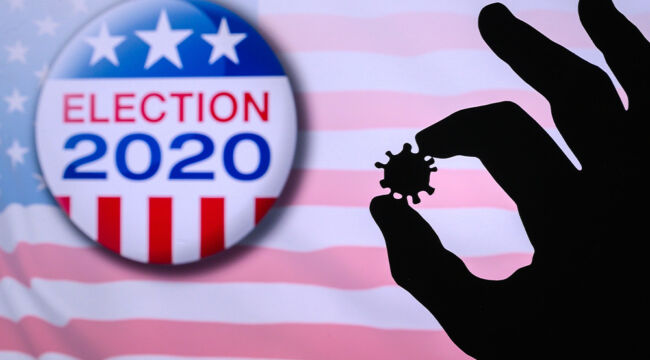 What we are experiencing is a COVID coup.
While Joe Biden (apparently) won the election, the entire process was dominated by COVID precautions and distortions.
Nearly 80% of Joe Biden's vote — according to the exit polls — named COVID as the key issue. A similar 80% of Trump's vote saw the economy as the key issue.
In the name of COVID fears, election day was essentially cancelled and more than half the votes were cast by mail, many of them weeks before.
With the Democrats leading the push for early mail-in voting, people who feared to go to the polls (because of COVID) were overwhelmingly Biden voters.
Republicans across the country allowed the Democrats to intimidate voters with COVID myths and then use the myths as a pretext for voting by mail from home.
On the assumption that it was perilous to vote in person, mail-in ballots were authorized everywhere. More than 100 million votes were mailed-in.
Breaking the links between personal presence, IDs, signatures, ballots, and individual voters, the new procedures fostered a murky and error-prone system that should not be repeated.
The mail-in operations prolonged the voting period and changed the electoral dynamic. We can only hope that the American future was not "lost in the mail.
The Myth and Mantra of COVID
The ruling theme of the campaign was the myth and mantra of 220,000 "COVID deaths." This claim the media inculcated and propagated relentlessly and even Trump disastrously seemed to condone. The electoral campaigns pivoted on the myth of the 220,000 or more deaths.
Actual COVID-caused deaths were less than 10% of this number and the average age of deaths was higher than the average age of all-cause deaths.
Measured by years of lost life, COVID was insignificant compared to ordinary flu, pneumonia, TB or other diseases.
…click on the above link to read the rest of the article…