Built to profit from sky-high LNG Prices in Japan. Sunk by surging US LNG Exports, multi-year collapse in LNG prices, global LNG glut.
The Great East Japan Earthquake and subsequent tsunami in March 2011 triggered a series of events at the Fukushima power plant that led to catastrophic meltdowns in three of its six reactors, which led Japan to take the remaining of its 54 operating reactors offline, as a new regulatory and safety regime was established for reactors to come back on line. This caused a mad scramble to switch to other forms of power generation, including power plants fired by natural gas, which Japan has to import as liquefied natural gas (LNG), which triggered a blistering spike in LNG prices that caused all kinds of enormous long-term investments to be commenced around the world, including in the US and in Australia, in order to export super-lucrative LNG into booming Asian demand.
But in 2014, the price of LNG started sinking, and in 2015, it plunged, and those investments became huge money pits – including perhaps the largest of them all, Shell's floating LNG-factory, the Prelude FLNG, at a length of 1,600 feet, the largest floating facility ever built, and at an undisclosed cost estimated to have been in the range between $12 billion and $17 billion, now languishing off the coast of Australia (the red hull is the Prelude, the smaller ship in front of it is a huge LNG tanker; image by Shell):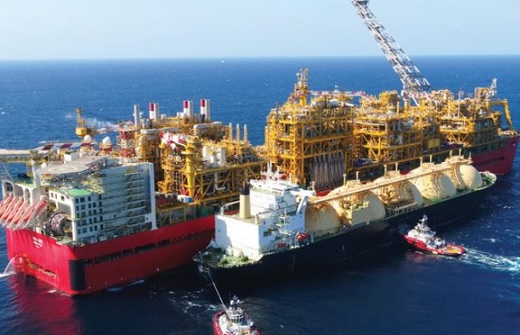 In April 2014, the average spot price of LNG at arrival in Japan was $18.30 per million Btu, according to Japan's Ministry of Economy, Trade, and Industry (METI). This is as far as its data series goes back.
…click on the above link to read the rest of the article…