In 2019, US population growth fell to +1.55m or +0.5%…this was due to a trifecta of declining births, lower immigration, and higher deaths than anticipated. However, as with everything "2020", all three trends are only intensifying to blow away 2019. Births are falling faster and further, deaths moving higher with Corona-virus and drug related overdoses, and immigration nearly non-existent. Thus, US population growth will likely dip below 1 million or +0.3% this year. And while I anticipate (or think it feasible) that immigration could return to 2019 levels eventually, births will almost surely continue falling and deaths rising more than anticipated. The simple outcome of this is an ongoing collapse in US population growth which is far larger in scope than the current Corona-virus pandemic.Census Population Estimates…Wildly Overstating GrowthThe chart below shows the 2008, 2014, and 2017 Census US total population projections through 2050. Some quick math shows that in 9 years time from '08 to '17, the Census downgraded US population growth through 2050 by 50 million persons. But due to the factors mentioned above, the 2020 Census projection through 2050 will need another massive downgrade…I'd suggest something on the order of another 29 million person downgrade.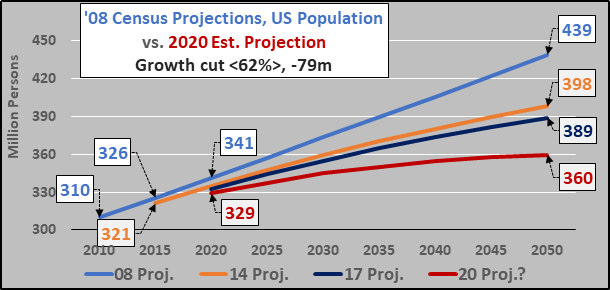 The most significant contributor to decelerating population growth is declining births. This is true among the native population and true among immigrants. On average, they are all having significantly fewer children than anticipated. As the Census estimates from '00, '08, '12, '14, and '17 show…the Census models just can't fathom the fast declining births taking place in the US. But each Census estimate is still far too high, and perhaps in '20 the Census will "fix" their models and portray reality (ok, not likely)…but I offer a more realistic picture below.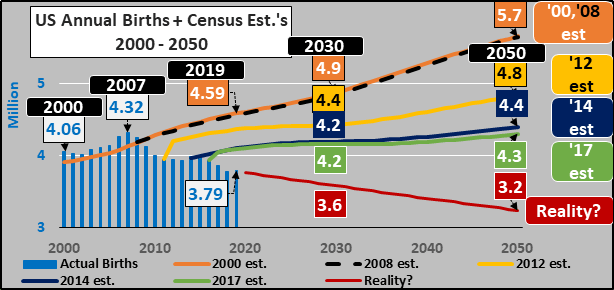 However, the downgrades in population are specifically among the younger populations. Obviously, declining births and immigration means declining young. The about face from '08 to '20 is stunning in the suggestion that the US truly is far more Japanese than immune to depopulation.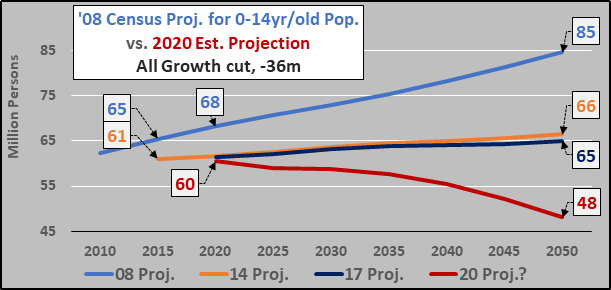 …click on the above link to read the rest of the article…