Update (April 23): Food shortages across the country are coming a lot quicker than anyone has anticipated. A total of eight meatpacking plants have already gone offline in weeks. On Thursday morning, we noted how pork shortages could hit households by the first week of May.
Now we're starting to learn the dominos are falling, with meatpacking plants shuttering operations across the country because of the coronavirus outbreak.
Tyson Foods Inc. has announced the third plant closure in about a week and the second closure within 24 hours. The latest announcement crossed the wires on Thursday afternoon, specifies how a major beef facility in Pasco, Washington, is shutting down operations because of the virus outbreak, reported Bloomberg.
"We're working with local health officials to bring the plant back to full operation as soon as we believe it to be safe," Steve Stouffer, head of Tyson Fresh Meats, said in the company's statement.
"Unfortunately, the closure will mean reduced food supplies and presents problems to farmers who have no place to take their livestock. It's a complicated situation across the supply chain."
In total, eight major meatpacking plants have closed in the last several weeks. We noted on Thursday morning that a "rash of coronavirus outbreaks at dozens of meatpacking plants across the nation is far more extensive than previously thought."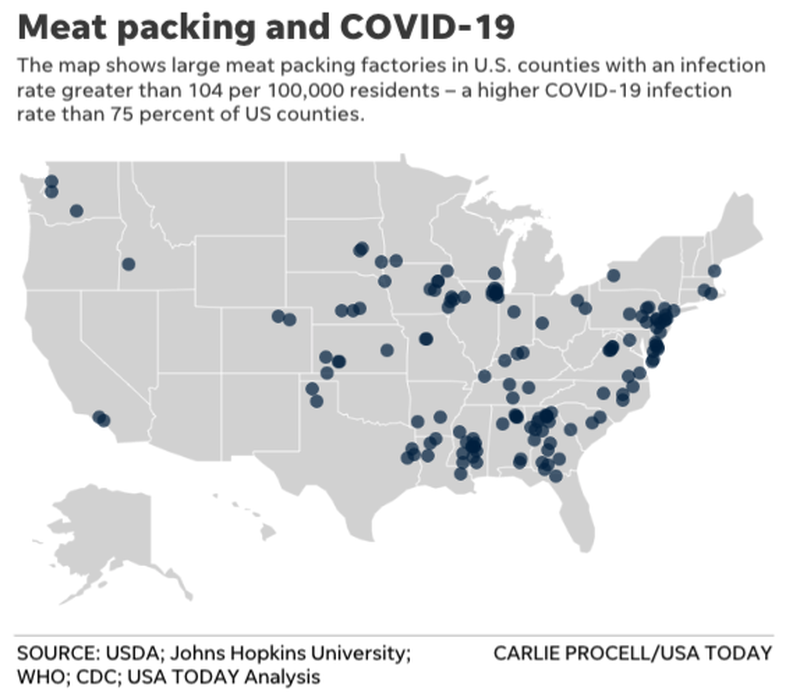 As for the plant in Washington, well, it produces enough beef to feed four million people per day. Just imagine what happens when people who have just lost their jobs experience food shortages, or maybe rapid food inflation. It could be a trigger for social unrest.
* * *
Update (19:50): It appears meatpacking facilities in America's heartland could be the next epicenter of the coronavirus outbreak.
On Wednesday, Tyson Foods announced two closures of meatpacking facilities because of coronavirus related issues.
Here's the timeline of closures:
…click on the above link to read the rest of the article…