Summary:
Taiwan reports 1st coronavirus death
Taiwan taxi driver who died from virus carried passengers from mainland, Hong Kong, Macau
Singapore reports 3 more cases
Indonesia says 6 passengers from Westerdam cruise ship tested negative
There are now at least 68,500 cases worldwide, and at least 1,665 deaths from the Covid-19 virus
Japan found 70 more cases aboard the Diamond Princess cruise ship
Second African confirms suspected coronavirus case
Hubei province, the outbreak's epicenter, reported fewer new infections for the second day
Bill Gates warns "10 million deaths" possible in Africa
China's facemask shortage likely won't be over anytime soon
WHO says Beijing's actions bought the world time, but "we don't know how much time"
* * *
Update (1140ET): It's almost Monday in China. Here's a smattering of updates from the region as the number of confirmed cases ex-China is starting to go exponential. If these cases continue accelerating, it will soon become impossible for the Chinese government to continue rigging their data.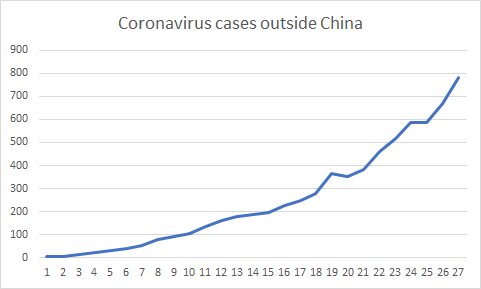 First, Malaysia reports that six passengers who have been quarantined since arriving in the country from Cambodia after disembarking from the Westerdam cruise ship have tested negative for the virus. Yesterday, we reported that an 83-year-old American woman tested positive for the virus after flying to Kuala Lumpur.
As we noted earlier, the Taiwanese man who succumbed to the virus was a taxi driver who apparently carried three fares all returning from China, Hong Kong and Macau. The three fares are being tracked very closely by the government in Taiwan.
Singapore's ministry of health reported three new cases, two of which appear to be linked to a cluster of cases at the Grace Assembly of God church, Bloomberg reports.
…click on the above link to read the rest of the article…