In response to the economic paralysis brought about by the coronavirus, Chinese banks are offering billions of dollars in loans to Chinese companies, according to two banking sources via Reuters.
About 300 Chinese firms, including top food delivery company Meituan Dianping and smartphone maker Xiaomi, have requested upwards 57.2 billion yuan ($8.2 billion) in loans to prevent a hard landing as China's economy grinds to a halt.
The sources said the firms seeking loans are either the hardest hit or have an active role in the control of the virus outbreak.
Evercore ISI Chairman Ed Hyman warned last week that China's GDP growth could post "zero for the first quarter … China is really slowing and that's worrying people for sure."
"We are so solid," Hyman said. "It's not the virus, it's the trade that matters. People are not going out. They are not shopping, and that's what's hurting particularly China."
The scale of disruption in China is already staggering and is already spreading worldwide… and fast, China is effectively shut down and goods are now stranded in floating quarantines.
As Goldman noted here, the overall impact on global growth is about a 2% cut in Q1…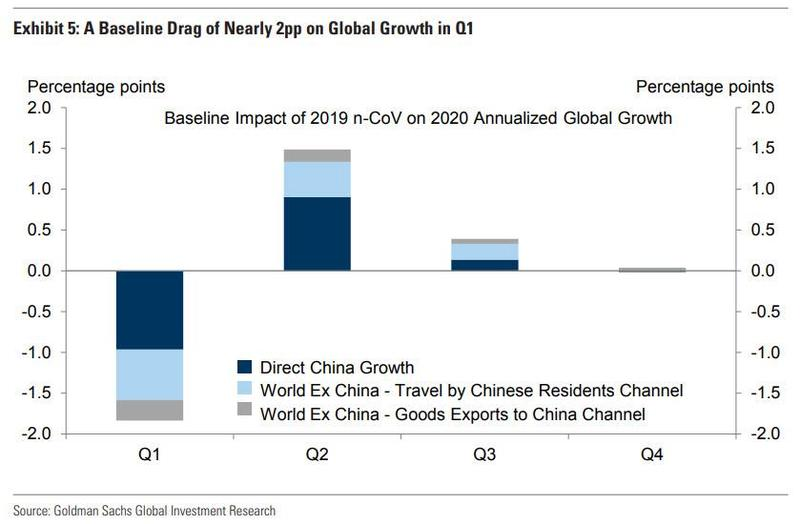 Extended factory closings and supply chain disruptions have forced many companies to request loans for "fast-track approvals and preferential rates," the sources said.
The sources reviewed several lists of companies that Chinese banks will be distributing loans to. They said no official data is showing total loans requested.
The list includes pharmaceutical firms and restaurants, who've requested help from banking authorities.
"Banks will have the final say on lending decisions," one of the sources said. "The interest rates are likely to be on par with those offered to banks' top clients."
…click on the above link to read the rest of the article…