The world has returned to business as usual after the Saudis assured oil markets that production will be back soon and as oil prices have returned to pre-attack levels and even lower, indicating that oil traders focus on a weak global economic outlook.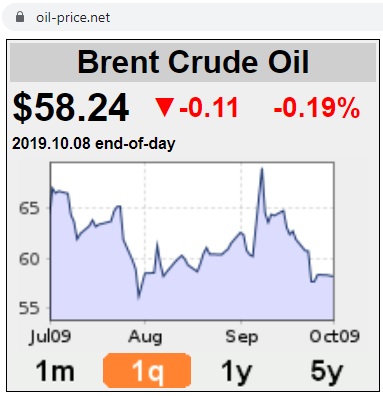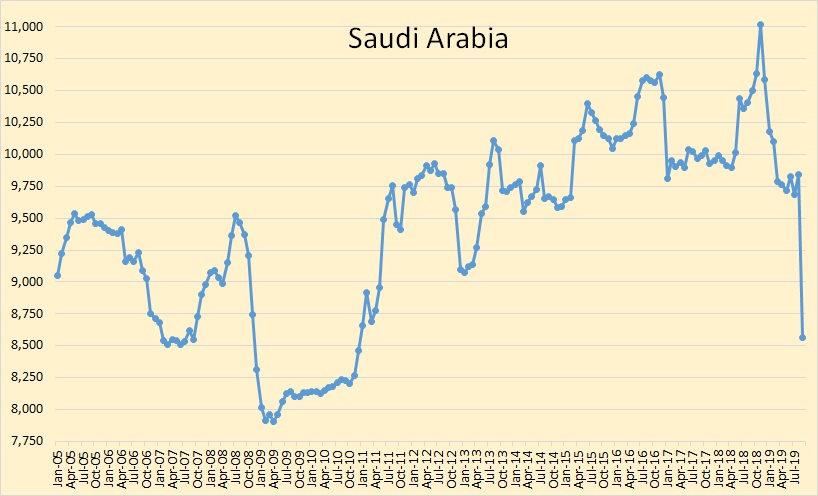 The peak oil barrel blog monitors OPEC's oil production and published the above graph for September 2019, using data from OPEC's Monthly Oil Market Report. The drop from around 9,800 kb/d to 8,500 kb/d translates into an approximate loss in September of 40 mb Arab Light. Saudi oil stocks were 180 mb before the attack. Maybe tanks are filled with partially processed oil with a high sulfur content.
Iran's oil exports
From the IEA Monthly Oil Market Report dated 12/9/2019 (2 days before the Abqaiq attack):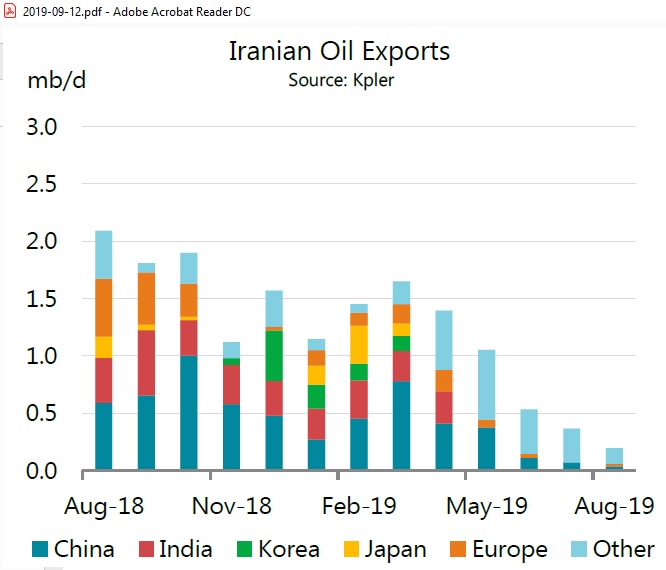 The data on Iranian oil exports are fuzzy. On 13 Sep 2019 S&P Global Platts reported 424 kb/d in August (mainly to China and Syria) but warns that Iranian storage is filling up quickly, including 50 mb on tankers (mostly condensate). During the last round of sanctions in 2016 storage reached 55-60 mb.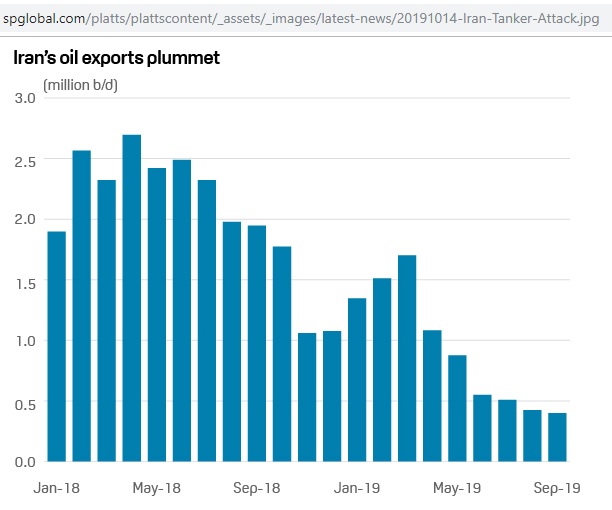 In July 2019 the Atlantic Council calculated in an article entitled
Iran's Crude Oil Exports: What Minimum Is Enough to Stay Afloat?
that Iran needs to export 1.5 mb/d to balance the budget and 720 Kb/d as an absolute minimum in survival mode (withdrawals from the National Development Fund, foreign exchange and gold reserves)
Changed balance of power in Middle East
As Iranian oil exports have dropped below these thresholds, attacks have intensified:
12 May: Fujairah, UAE, 4 tankers damaged in Gulf of Oman by limpet mines
…click on the above link to read the rest of the article…