Home » Posts tagged 'abqaiq'
Tag Archives:
abqaiq
The world has returned to business as usual after the Saudis assured oil markets that production will be back soon and as oil prices have returned to pre-attack levels and even lower, indicating that oil traders focus on a weak global economic outlook.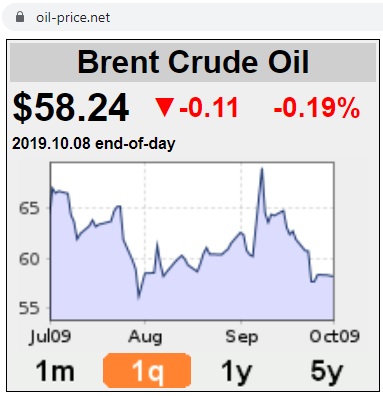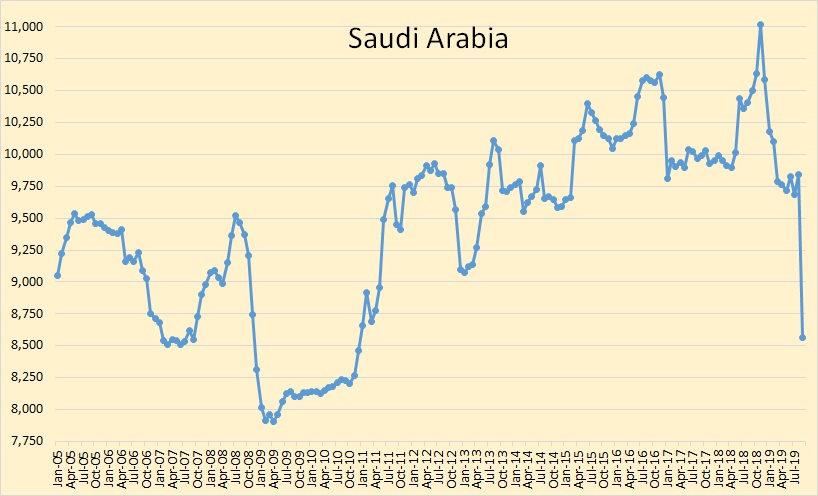 The peak oil barrel blog monitors OPEC's oil production and published the above graph for September 2019, using data from OPEC's Monthly Oil Market Report. The drop from around 9,800 kb/d to 8,500 kb/d translates into an approximate loss in September of 40 mb Arab Light. Saudi oil stocks were 180 mb before the attack. Maybe tanks are filled with partially processed oil with a high sulfur content.
Iran's oil exports
From the IEA Monthly Oil Market Report dated 12/9/2019 (2 days before the Abqaiq attack):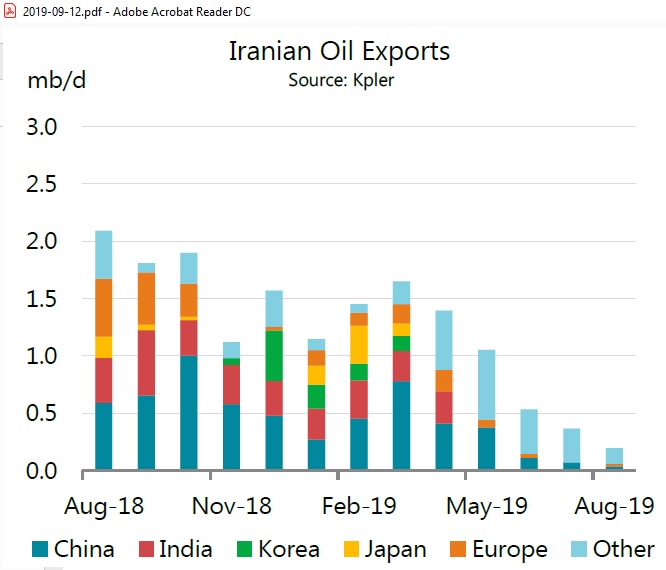 The data on Iranian oil exports are fuzzy. On 13 Sep 2019 S&P Global Platts reported 424 kb/d in August (mainly to China and Syria) but warns that Iranian storage is filling up quickly, including 50 mb on tankers (mostly condensate). During the last round of sanctions in 2016 storage reached 55-60 mb.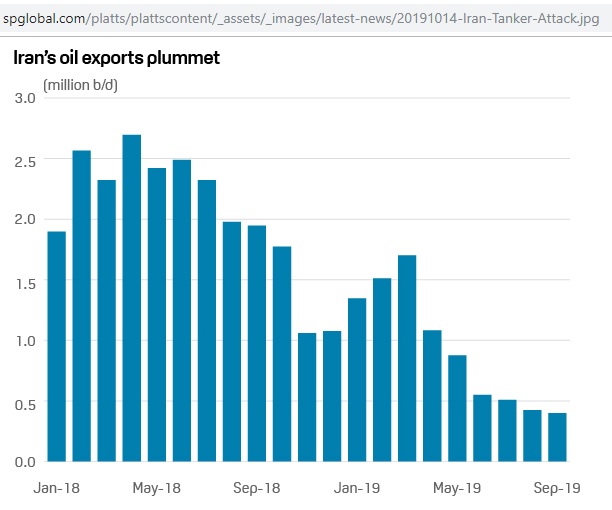 In July 2019 the Atlantic Council calculated in an article entitled
Iran's Crude Oil Exports: What Minimum Is Enough to Stay Afloat?
that Iran needs to export 1.5 mb/d to balance the budget and 720 Kb/d as an absolute minimum in survival mode (withdrawals from the National Development Fund, foreign exchange and gold reserves)
Changed balance of power in Middle East
As Iranian oil exports have dropped below these thresholds, attacks have intensified:
12 May: Fujairah, UAE, 4 tankers damaged in Gulf of Oman by limpet mines
…click on the above link to read the rest of the article…
While S&P futures may spike at the open following Saturday's news from the NYT that the "the delegation of Chinese agriculture officials that had planned to travel to Montana and Nebraska in the coming week didn't cancel the trip because of any new difficulty in the trade talks" but "instead, the trip was canceled out of concern that it would turn into a media circus and give the misimpression that China was trying to meddle in American domestic politics", oil too is likely to catch a bid after the WSJ reported that it may take "up to eight month", rather than 10 weeks company executives had previously promised, to fully restore operations at Aramco damaged Abqaiq facility, suggesting the crude oil shortfall will last far longer than originally expected.
---
Saudi officials say there is little sense of calm at the highest levels of the company and the Saudi government, however. It could take some contractors up to a year to manufacture, deliver and install made-to-measure parts and equipment, the Saudi officials said. #OOTT https://twitter.com/summer_said/status/1175859119061909506 …✔https://www.os-repairs-could-take-months-longer-than-company-anticipates-contractors-say-11569180194 243:52 PM – Sep 22, 2019
---
The official reason for the delay: the supply-chain is unable to respond to the Saudi needs. Specifically, Aramco is" in emergency talks with equipment makers and service providers, offering to pay premium rates for parts and repair work as it attempts a speedy recovery from missile attacks on its largest oil-processing facilities."
Following a devastating attack on its largest oil-processing facility more than a week ago, Aramco is asking contractors to name their price for patch-ups and restorations. In recent days, company executives have bombarded contractors, including General Electric , with phone calls, faxes and emails seeking emergency assistance, according to Saudi officials and oil-services suppliers in the kingdom.
…click on the above link to read the rest of the article…