It's not just "tinfoil blogs" who (for the past 11 years) have been warning that a monetary reset is inevitable and the only viable fallback option once trust and faith in fiat is lost, is a gold standard (something which even Mark Carney hinted at recently): central banks are joining the doom parade now too.
An article published by the De Nederlandsche Bank (DNB), or Dutch Central Bank, has shocked many with its claim that "if the entire system collapses, the gold stock provides a collateral to start over."
---
Wow

Dutch National Bank goes 'Big Reset':

'Aandelen, obligaties en ander waardepapier: aan alles zit een risico [..] Als het hele systeem instort, biedt de goudvoorraad een onderpand om opnieuw te beginnen. Goud geeft vertrouwen in de kracht van de balans van de centrale bank'.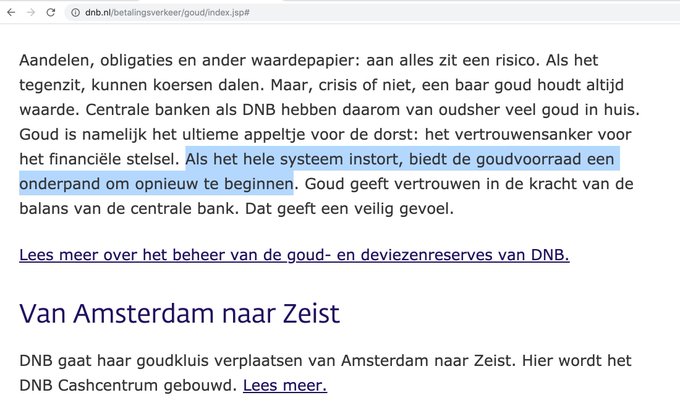 ---
While gloomy predictions of a monetary reset are hardly new, they have traditionally been relegated to the fringe of mainstream financial thought – after all, as Mario Draghi stated on several occasions in recent years, the mere contemplation of a "doomsday scenario" is enough to create the self-fulfilling prophecy which materializes it. As such, it is stunning to see a mainstream financial institution open up about the superior value of limited supply, non-fiat, sound money assets. It is also hypocritical given the diametrically opposed Keynesian practices regularly engaged in by central banks and official institutions worldwide: after all, just a few months back, the IMF published a paper bashing Germany's adoption of the gold standard in the 1870s as the catalyst for instability in the global monetary system.
Fast forward to today, when the Dutch Central Bank is admitting not only did gold not destabilize the monetary system, but it will be its only savior when everything crashes.
 …click on the above link to read the rest of the article…