Home » Posts tagged 'monetary reset'
Tag Archives:
monetary reset
It's not just "tinfoil blogs" who (for the past 11 years) have been warning that a monetary reset is inevitable and the only viable fallback option once trust and faith in fiat is lost, is a gold standard (something which even Mark Carney hinted at recently): central banks are joining the doom parade now too.
An article published by the De Nederlandsche Bank (DNB), or Dutch Central Bank, has shocked many with its claim that "if the entire system collapses, the gold stock provides a collateral to start over."
---
Wow

Dutch National Bank goes 'Big Reset':

'Aandelen, obligaties en ander waardepapier: aan alles zit een risico [..] Als het hele systeem instort, biedt de goudvoorraad een onderpand om opnieuw te beginnen. Goud geeft vertrouwen in de kracht van de balans van de centrale bank'.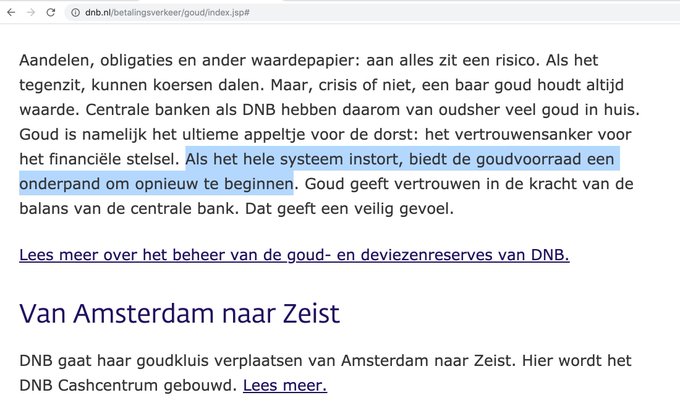 ---
While gloomy predictions of a monetary reset are hardly new, they have traditionally been relegated to the fringe of mainstream financial thought – after all, as Mario Draghi stated on several occasions in recent years, the mere contemplation of a "doomsday scenario" is enough to create the self-fulfilling prophecy which materializes it. As such, it is stunning to see a mainstream financial institution open up about the superior value of limited supply, non-fiat, sound money assets. It is also hypocritical given the diametrically opposed Keynesian practices regularly engaged in by central banks and official institutions worldwide: after all, just a few months back, the IMF published a paper bashing Germany's adoption of the gold standard in the 1870s as the catalyst for instability in the global monetary system.
Fast forward to today, when the Dutch Central Bank is admitting not only did gold not destabilize the monetary system, but it will be its only savior when everything crashes.
 …click on the above link to read the rest of the article…
Willem Middlekoop, 
author of The Big Reset – The War On Gold And The Financial Endgame
, believes
 the current international monetary system has entered its last term and is up for a reset
. Having predicted the collapse of the real estate market in 2006, (while Ben Bernanke didn't), Middlekoop asks (rhetorically) -can the global credit expansion 'experiment' from 2002 – 2008, which Bernanke completely underestimated, be compared to the global QE 'experiment' from 2008 – present? – 
the answer is worrisome
. In the following must-see interview with Grant Williams, he shares his thoughts on
 the future of the global monetary system and why the revaluation of Gold is inevitable
…
Middlekoop predicts the real estate crash in 2006… (ensure English Subtitles – Closed Captions – are enabled)
Bernanke did not… (stunning!!)
And now today, Middelkoop has some even more ominous concerns about the end of Plan A and where Plan B begins…
"By revaluing gold to a much higher level, to over $8000 an ounce, central bankers solve quite a lot of problems"

17:00 – "But we know Plan A – the current financial system – will end soon, we can't go on this way… so we need a monetary reset… and a revaluation of gold has helped central bankers in the past, such as Roosevelt in the 1930s. It would help to restore the balance sheet of The Federal Reserve."

But there are problems…

21:00 –  "It always ends in inflation.. certainly in 2016, we can expect more QE… and when that does not defeat deflation (driven by global over-indebtedness), further unorthodox measures will be taken (helicopter money).. and eventually a gold revaluation."
In this episode of the Gold series, Willem Middelkoop, founder of the Commodities Discovery Fund, dives into the history of monetary shifts and explores a scenario where the US dollar could be debunked as the global reserve currency. 
…click on the above link to read the rest of the article…
The Global Monetary Reset Is Under Way | Zero Hedge.
The Global Monetary Reset is under way, but people have not noticed it yet. The key is the move to zero interest rates.
Government debt almost everywhere is too high to ever pay off, let alone pay a traditional rate of interest on.  As debts come due, including as bond issues mature, the only option governments have is to roll over the debt and accumulated interest, and the only way they can afford to do that is if money printing is a continued practice and interest rates are at or near zero.  QE is the latest name for money-printing, inflating the amount of currency available.  Logically, QE dilutes the value of a currency by inflating the number of currency units in circulation, and, theoretically, should lead to price inflation.  However, if all nations engage in monetary expansion, the effects of money printing on exchange rates may be effectively concealed by a balance of expansion.  Or, as in the case of the US dollar, a currency with the status of world reserve currency may be expanded with relative impunity by the nation creating that currency, effectively exporting its inflation to the rest of the world that continues to sell to that nation, or trades in a monetary system based on that currency. Injections of QE into an economy with weak fundamentals is likely to result in speculative bubbles as QE funds show up in investors' hands and not in the hands of general consumers.
Inflation has become a necessary element of economic life according to the mainstream meme of economists.  Inflation is a key strategy in coping with immense and increasing debts.  Debt so large that it cannot be paid must be inflated away or governments must default.  Deflation makes current debt increasingly difficult to pay or service out of deflating GDP and tax revenue.