Late on Friday, when we noted that according to Argentina's next president, Alberto Fernandez, the country's upcoming bond default, its 9th since declaring Independence, was the IMF's fault as much as that of outgoing president Mauricio Macri, we pointed out that Buenos Aires has a more pressing problem: running out of money.
Specifically, we noted that "the central bank has spent close to $1.5 billion to meet rising demand for dollars since mid-August, or about 10% of its net foreign-currency reserves. Worse, according to calculations by First Geneva Capital Partners, Argentina will drain its net foreign currency reserves within the month if it continues spending dollars at the current rate." "So", we concluded, "Buenos Aires has a choice: watch as its currency becomes the next Bolivar, or run out of dollars in days."
Two days later Buenos Aires, still not quite sure which path to pursue, did the only thing it could do to avoid a full-blown financial collapse: impose capital controls, which "oddly enough" appears to be a now standard development almost every time the IMF comes in to "rescue" an insolvent nation. Incidentally, without those generous (and record) IMF loans, Argentina would have run out of reserves by now.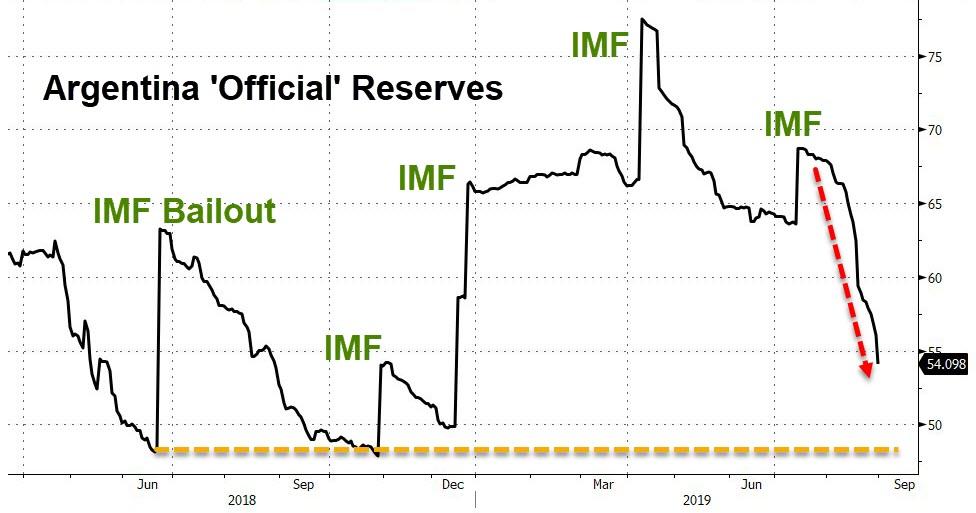 As Reuters reports, citing a decree published in an official bulletin on Sunday, the Argentine government authorized the central bank to restrict currency purchases. The decree includes major exporters, which will need permission from the central bank to access the FX market to purchase foreign currency and make transfers abroad. The central bank will also set a deadline for exporters to repatriate foreign currency.
Things went from terrible to even worse last week, when Argentina defaulted on creditors to local short-term debt on Wednesday, at which point Argentina also said it will ask holders of $50 billion of longer-term debt to accept a "voluntary reprofiling." It also plans to renegotiate payments on nearly $50 billion it has borrowed from the International Monetary Fund.
…click on the above link to read the rest of the article…