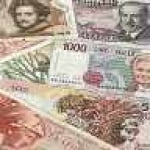 There are certain phrases – like "trust me" or "I got this" – that should immediately provoke one's suspicion. When your slippery contractor tells you, "trust me, your kitchen renovation will be done before Christmas," you should be wary. There's no way it'll be done until late spring.
Or when your incompetent client says, "I won't be needing your services at this time, I got this." You should expect a panicked phone call at 5pm on Friday. "This is way more than I can handle," your client will say, "take care of it."
On Monday, when the sky was falling, and there was much weeping and gnashing of teeth, the Chinese yuan weakened to above 7 per dollar for the first time in over a decade. This prompted U.S. Treasury Secretary Steven Mnuchin to waft out a suspicious phrase of his own. He called China a "currency manipulator."
Mnuchin's logic, as far as we can tell, is that China manipulated their currency because their central bank didn't adequately intervene in foreign exchange markets to prop up the yuan. Conversely, direct intervention into markets, to maintain a centrally planned price that's acceptable to Mnuchin, is not currency manipulation. Go figure!
On Tuesday, to restore confidence in the yuan, and refute accusations of being a malevolent currency manipulator, the People's Bank of China (PBOC) announced a plan to price fix the yuan. Specifically, the PBOC will sell 30 billion yuan ($4.2 billion) of offshore bills in Hong Kong on August 14. This move is designed to drain liquidity offshore, thus strengthening the yuan against the dollar.
Why bother?
Cooperative Currency Debasement
The world, circa 2019, is a fabricated reality. Debt, piled upon debt, piled upon debt, ad infinitum, has erected a financial order that's at perilous odds with the underlying economy. Central bankers attempt to manipulate fake money and fake foreign exchange rates to keep the debt pile from cascading down.
…click on the above link to read the rest of the article…