Grant Williams pithily summed up the situation that has been plaguing gold since 2013: Nobody Cares.
Yes, it's highly likely that the price has been suppressed. But not enough buyers cared to fight the bullion bank/central bank cartel or make life difficult enough for the politicians — and thus, the regulators — to change things.
So gold languished. For years.
But last August, gold quietly entered a bull market after breaking above $1200.
As the price began rising (for both fundamental & technical reasons), we've been tracking its progress closely. We do so on a daily basis via Peak Prosperity's Precious Metals Daily Commentary updates (outstandingly authored by user davefairtex), as key developments happened via our premium reports (like this prediction), and via expert interviews such as our recent in-depth discussions with TFMetals and Incrementum's Ronni Stoeferle.
As we entered 2019, the increasingly dovish/desperate policy retracements of the central banks — which now appear will NEVER normalize their balance sheets — have boosted the bull run.
Lower real interest rates are gold price-positive. And not only are real rates falling right now, there's alreadycurrently $12 trillion in negative *nominal* debt trading worldwide right now: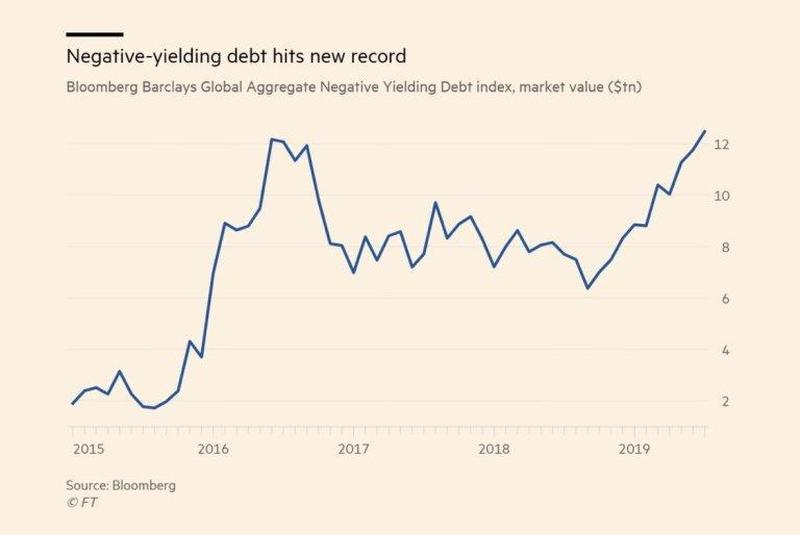 And based on this week's further dovish announcements from both the Fed and the ECB, we can expect more $trillions to be added to that pile soon.
On Tuesday, Mario Draghi apparently went rogue on his fellow policymakers and launched into a swan song version of his all-time hit "Whatever it takes". The next day, Jerome Powell at the Fed confirmed his willingness to ease and let the market know he stands ready to cut rates multiple times over the next year.
…click on the above link to read the rest of the article…