Just a week before a Federal election was called the Australian Minister for Energy, Markus Taylor, released an interim report on fuel security on 4th April 2019 for public consultation (hereinafter called "Review"). The announcement of the report release was done without great fanfare, possibly with the intention not to enter a heated election debate.
http://www.environment.gov.au/minister/taylor/media-releases/mr20190404.html
This report was initiated by the previous Prime Minister Malcolm Turnbull in May 2018
https://www.abc.net.au/news/2018-05-07/australia-has-limited-emergency-fuel-stocks-left/9734164
The last report (National Energy Security Assessment 2011) was done by the previous government (Resource Minister Martin Ferguson) in December 2011
https://www.energy.gov.au/sites/default/files/national-energy-security-assessment-2011_0.pdf
What has changed since then?
In the 1st part of this article we look at Australian graphs. The Review doesn't show these details.
Australian oil production has further declined, 3 refineries have closed, oil and fuel stocks have dropped by 45% and fuel imports from Asia have surged. China's oil production peaked in 2015, oil imports doubled and the South China Sea has been militarized to secure oil supply routes. Oil prices went through a roller coaster from $110 in 2011 to $30 in Jan 2016 and back up to $70 now. It seems surging US shale oil production can't keep prices constant at reasonable levels. The media hype about the US being a swing producer isn't justified.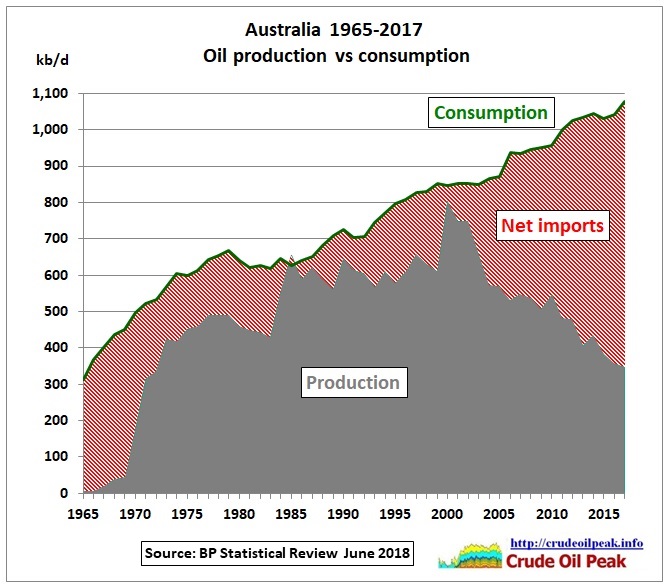 Of course, the government doesn't like the word "peak oil". To be fair, the Review mentions that Australia's oil production is in decline while consumption has increased (p 26). The following graph shows monthly production: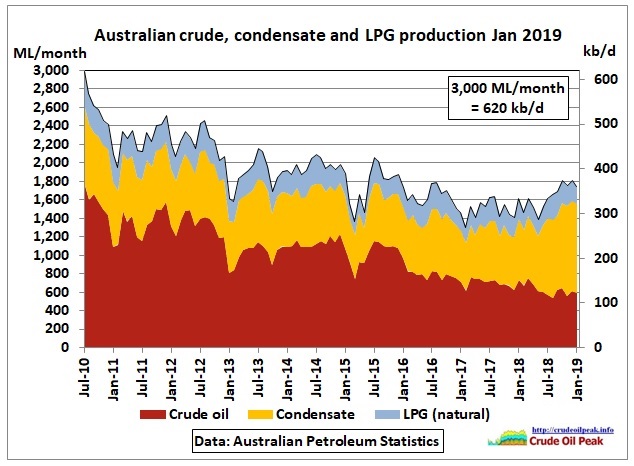 The uptick in condensate production is a result of increasing offshore gas production. Note that condensate and LPG have lower energy content per barrel.
…click on the above link to read the rest of the article…