Déjà vu—the sudden insistent feeling that you've encountered the present moment before—can be one of the oddest of human experiences. Sometimes, though, it happens for perfectly prosaic reasons. Right now, as I look at headlines and certain other indicators, I'm having a very strong case of déjà vu for reasons that require only the simplest explanation.  Sometimes, after all, you really have been there before.
Twenty years ago, for example, I could look back at the energy crises of the 1970s and see a certain pattern unfolding with great clarity.  I'll summarize the pattern for those of my readers who weren't born yet at that time. All through the 1950s and 1960s, a handful of people had been warning that petroleum is a finite resource and that the breakneck extraction of petroleum at ever-rising rates was sooner or later going to slam face first into hard limits.  They were of course dismissed as cranks by all right-thinking people.  They were also correct.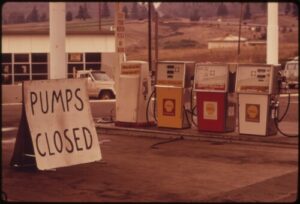 In 1973, declining production from US oilfields combined with political instability in the Middle East to slap the United States with a sudden shortfall in petroleum. The government and the Fed responded clumsily, expanding the money supply, which drove up prices, not only for petroleum products but for everything that was made and shipped using petroleum—that is to say, pretty much everything bought and sold in the country. The result was stagflation.  Meanwhile renewable-energy advocates convinced themselves that their time had come, and rushed a great many poorly conceived products to market, while the apocalypse lobby—those people who are constantly on the lookout for reasons to insist that everything is about to crash to ruin and we're all going to die in the next few years—embraced the oil crisis as their cause du jour.
…click on the link above to read the rest of the article,..