The very structure of our systems guarantees their failure once conditions change beyond their limited ability to adjust.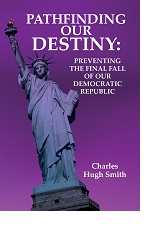 As a general rule, there are two paths to collapse: gradual erosion and sudden crash. The two are intertwined, of course; in most cases, the system slowly loses vigor, resources, efficiency, etc. (erosion) which leaves it so weakened that a crisis that would have easily been overcome in the past triggers a catastrophic decline of production and order.
There are two basic drivers of systemic erosion, drivers that have little to do with leadership or policy. Our current delusion is that changing leaders and tweaking policies are enough to stave off systemic erosion, decline and collapse, but the two dynamics cannot be so easily thwarted.
The first is the gradual decline in the system's ability to adapt to changing circumstances. Life's core asset is the ability to evolve and adapt, and organisms, species and systems which fail to adapt fast enough and effectively enough to rapid change disappear.
Today's modern complex systems are typically optimized to specific conditions, meaning that they've evolved (or been designed) to maximize production and output given a certain set of inputs and processes.
If those conditions shift outside the expected parameters, the system's efficiency and output are heavily eroded. To take a real-world example: airliners are designed to cruise at specific altitudes to maximize the efficiency of the engines and aircraft design while maximizing the cruising speed.
If an airliner is forced to fly at an altitude of 500 feet instead of 35,000 feet, the optimizations are lost.
…click on the above link to read the rest of the article…