Climate breakdown is an imminent threat to humanity. But an international treaty could avert calamity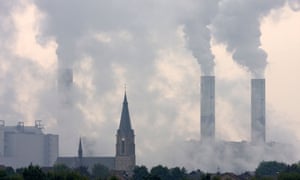 How did government respond to the recent scientific conclusion that only "rapid, far-reaching and unprecedented changes in all aspects of society" can deliver the globally agreed target for stopping climate breakdown? In the UK, fracking for fossil fuelswas given the green light, plans were announced for a huge new road in the south-east, incentives for electric vehicles withered, the expansion of Heathrow airport is still going ahead and Gatwick airport is trying to expand too by bringing a back-up runway into use. It's like seeing a sign that says "Danger: vertical cliff drop" and pulling on your best running shoes to take a flying leap.
Something isn't working. The head of the oil company Shell responded to the new climate science warming by clarifying that "Shell's core business is, and will be for the foreseeable future, very much in oil and gas." BP announced new North Sea oil projects. Immediate choices are being made with blank disregard to avoiding climate breakdown.
A new line in the sand is needed to underpin the existing climate agreement, to exert influence over the immediate choices of policymakers. At the very least, the science should mandate a moratorium in rich countries on any further expansion of the fossil fuel industry, or any infrastructure dependent on it. Currently, global demand for coal, oil and gas are all growing, with fossil fuels accounting for 81% of energy use. Worryingly, the International Energy Agency projects total fossil fuel use rising for decades still to come, smashing all climate targets.