Plunging bank stocks got the Court's attention, or something.
That was fast: Spain's Supreme Court on Friday flip-flopped on its own ruling announced on Thursday that had sent bank stocks plunging.
It started like this: Thursday morning, Spain's Supreme Court did something nobody was expecting. It ruled that the country's banks must pay stamp duty on mortgage loans, which would set them back billions of euros in legal fees and compensation while heaping further pressure on their lending business. News of the ruling sent many of the banks' shares tumbling to new lows for the year while also heaping pressure on Spain's ten-year bonds.
"The Supreme Court states that the person who must pay the stamp duty in the public deeds of loans with mortgage guarantees is the lender, not the one who receives the loan," the court said in a document. The court ruling on Thursday, which overturned a previous ruling in the banks' favor earlier this year, was final, the Supreme Court said on Thursday.
But by lunchtime Friday, the court had decided to suspend the ruling in light of the acute "economic and social impact" it was having — meaning the banks were in trouble!
The chart shows the shares of Bankia, which is 90% state-owned. Following the Thursday announcement, the already beaten down shares plunged 10% at one point. The Friday flip-flop repaired some but not all of the damage: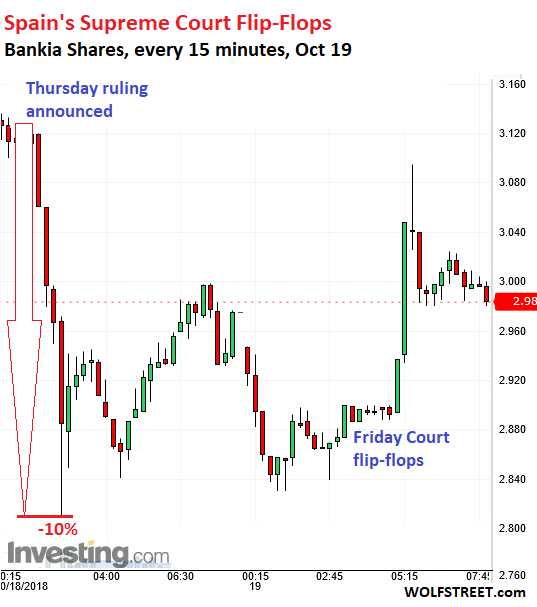 It's impossible to tell just how much the total compensation bill would have come to, since stamp duty varies across Spain's regions. As many as 8 million mortgage customers would have been affected by the court ruling, said the Spanish consumer association Adicae.
…click on the above link to read the rest of the article…